Photo: Operational headquarters of the Tyumen region for the prevention of coronavirus
From classified "antivirus troops" to forced hospital detentions, the world's largest country has been mobilizing to combat the spread of the Covid-19 outbreak. Sharing a vast border with China, Russia became one of the first countries hit with the deadly coronavirus. However, given the fact that the number of infected Russians remains low, painful economic fallout, the government's secrecy regarding its emergency response and rising animosity towards migrants have become bigger concerns for the country. At least for now.
Hromadske's partner outlet Novaya Gazeta has been all over the country tracking the coronavirus fallout from Moscow to Vladivostok.
Tracking cases worldwide. Novaya Gazeta has used machine learning to develop a bot that tracks the number of reported cases and fatalities from the coronavirus around the world. Check it out on Telegram @ng_virus_report.
Tracking the Outbreak
After two Chinese citizens in Russia were diagnosed with the coronavirus, Moscow limited air traffic to and from China and closed its shared border. Chinese citizens have also been banned from visa-free tourism to Russia and can no longer obtain Russian work visas.
The first two confirmed cases of the coronavirus appeared in the Siberian city of Tyumen and the far-eastern region of Zabaykalsky Krai. The government quickly decided to treat Tyumen as ground zero for the disease. Evacuations from virus-hit regions of China sent 144 Russian citizens to the region. They are now under army-guarded quarantine at a sanatorium about 30 kilometers outside of the city. This has provoked a widespread panic in Tyumen proper, where people bought up all the medical masks available at local pharmacies.
READ MORE: What Life Amid Coronavirus Outbreak is Like, According to These Ukrainians
Relative Calm on the Pacific Coast
In Vladivostok – Russia's largest Pacific port and the biggest city near the Chinese border – Novaya Gazeta's reporter finds that fears about the coronavirus have failed to cut off trade links. Vladivostok is a major crossing point for cargo destined for China and in early February exports and imports were still flowing. In spite of government restrictions, air travel and automobile traffic continued across the border.
On the whole, the situation in Vladivostok is rather calm, with the exception of some alarmist disinformation flooding local social media groups. Local residents walk the streets without medical masks, although tourists from South Korea – who have recently been coming to Vladivostok in exponentially growing numbers – usually have their faces covered. But since they wear medical masks year-round, this doesn't attract much attention.
Meanwhile, students at Vladivostok's Far Eastern Federal University have been sent on an extended holiday and international students from China were advised not to come back to class before 1 March. In preparation for the 750 students who are meant to return from China, the university has turned two dormitory buildings into a quarantine zone.
The Covid-19 outbreak appears to have the biggest impact on the city's construction sites, which have essentially come to a standstill as workers from China have been banned from coming to work. About 500 Chinese workers were meant to take part in building two new hotels in downtown Vladivostok – but because of the virus these projects remain frozen for the time being.
Mounting Economic Fallout
To find out how closing the frontier with China has affected Russia's regions on the border, Novaya Gazeta sent another correspondent to Blagoveshchensk, the capital of the Amur Oblast in southeastern Russia. Surprisingly, catching the diseases is not what scares the population there most – they're more afraid of the growing economic fallout.
Located across the Amur River from the Chinese province of Heilongjiang, Blagoveshchensk is Russia's closest city to China. Until recently, ferries connected the two countries, running every 30 minutes to take buses filled with tourists and shuttle traders over the border. Now that's been shut down.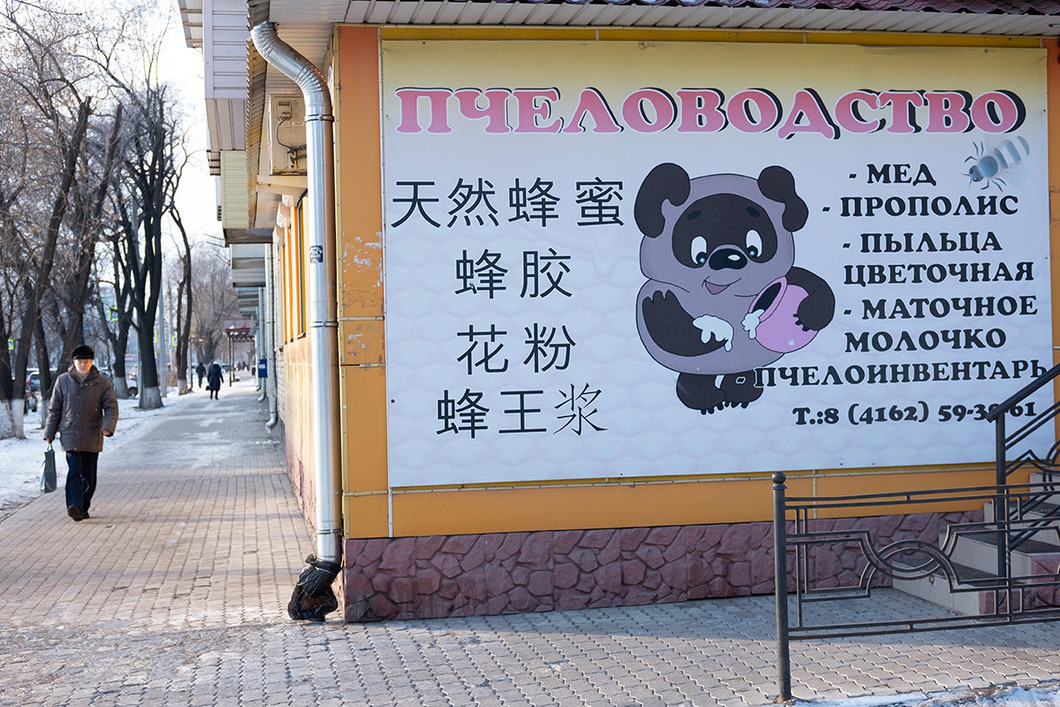 Honey and beekeeping products store in Blagoveshchensk. Before the border was closed, a significant part of its clients were tourists from China. Photo: Ivan Belozerov / for Novaya Gazeta
At first glance, everything in Blagoveshchensk seems normal. It's almost like the city has been trying to ignore the virus – and it seems to be working. Playgrounds are filled with children, pensioners are out for walks, young people meet in cafes and the city's yellow buses are filled with passengers. Few people are wearing medical masks, despite the fact that the local authorities introduced a "mask regime" at the end of January.
Nevertheless, local pharmacists say that they've sold out of medical masks several times and more were imported immediately. Overall though, most of the locals are not taking any preventative measures; just one woman at the mall told Novaya Gazeta's correspondent that she has "started eating garlic."
Meanwhile, salespeople are the most anxious — especially those working in jewelry stores. "Everything is focused on China! People come from Heihe constantly – they love our gold. And now look, everything is empty," says a jewelry saleswoman named Galina, working at one of the dozen jewelry stores on one particular street.
"In general, 80 to 90 percent of our customers are Chinese," says another saleswoman named Lyudmila. "We aren't feeling any losses yet, but on the whole there has been a decline."
Apparently, the border closure has hit local travel agencies worst of all. "The losses are colossal," one travel agency manager, named Irina, tells Novaya Gazeta. "We only have three destinations from Blagoveshchensk – Vietnam, Thailand and China. On average, about 35 percent of all tours go to China." According to Irina, the closure of the border with China has made people "very concerned" about traveling to Vietnam and Thailand, as well.
But what really bothers Irina is the general overreaction to the threat of the virus from her acquaintances in other parts of the country. "You can see for yourself that there's no panic here. But if you read the online comments few of them are pleasant. There was a post about the temporary corridor and the number of Russian citizens that returned along it. So many [people] wrote in the comments 'leave them in China, don't let them come here," she recalls angrily.
Meanwhile, the city's famous shopping center for Chinese vendors, Tri Kita, is conspicuously deserted – as is the Blagoveshchensk market. Many of the stalls are empty since the Chinese vendors who run them went home for the Chinese New Year and could not return because the border was closed. Although there are still many salespeople, the stalls have no customers. The few Chinese men working there are all wearing medical masks and they refuse to speak to Novaya Gazeta's correspondent.
"We aren't giving [comments], we won't give [them]. You're not the first to ask," they say.
"Yes, there used to be more people," says a Kyrgyz woman named Maria, who is selling clothes and shoes. "It's mainly because of the coronavirus, people are simply saying to each other 'don't go to the market, everything is closed there.'"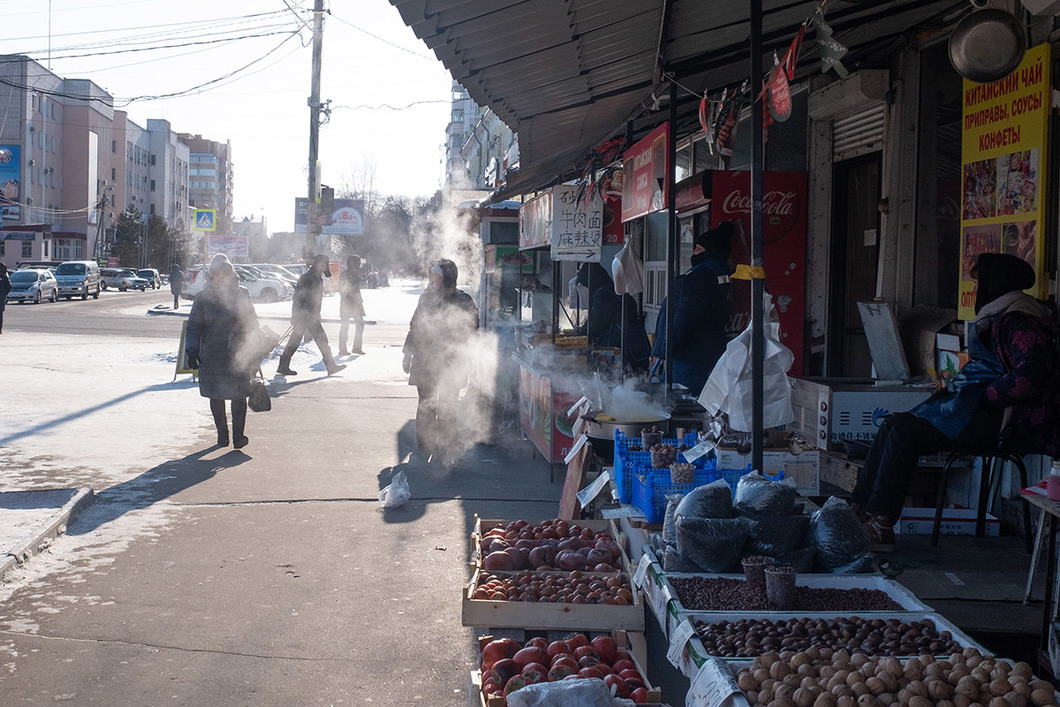 Shopping stalls near the central market in Blagoveshchensk. Photo: Ivan Belozerov / for Novaya Gazeta
Worryingly, Blagoveshchensk is already running out of some vegetables, since so much of the city's produce is usually brought in from China.
"Yes, the vegetables have run out," says the manager at a local supermarket, Tatyana, showing our correspondent trays of apples, carrots, and onions. "Before the tomatoes and cucumbers were here, instead of the apples. The onions haven't run out yet, but the price has risen."
Secretive "Antivirus Troops" and Targeting Migrants
Russia's first two coronavirus patients have made full recoveries, but the authorities are continuing to mobilize against the spread of the disease. And there's growing concern about the classified work that the country's medical agencies are carrying out.
Russia's "human well-being" watchdog, Rospotrebnadzor, has reportedly put together a "special task force" of scientific researchers to battle Covid-19 – made up of the same team that Russia deployed to tackle the Ebola outbreak in Africa in 2014. However, confirming even the most basic information about their work, like who's heading the anti-coronavirus campaign, has been a challenge for Novaya Gazeta's journalists.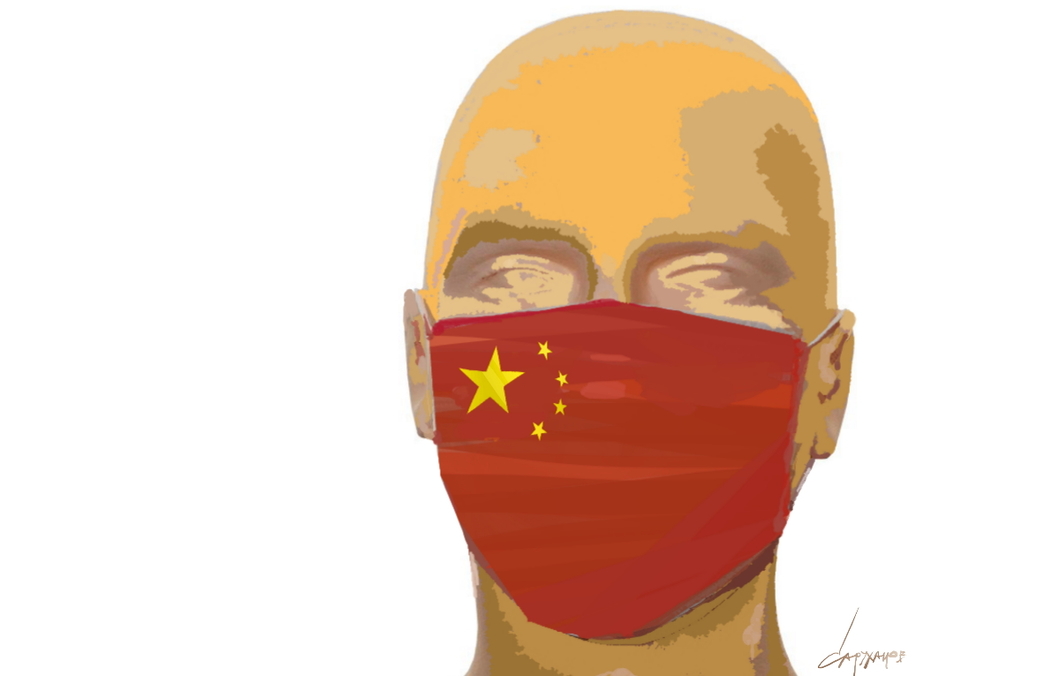 Illustration: Petr Sarukhanov / Novaya Gazeta
The fact that Rospotrebnadzor's affiliates refuse to talk to the press is worrying, says microbiologist and science journalist Irina Yakutenko. "We do not know what they are analyzing, there is no official information. This is also a violation of the World Health Organization's rules. They're supposed to tell society everything, but they aren't telling us what's actually happening," she underscores.
Instead, Russian officials are choosing to "shut up first and take urgent action later" – something Yakutenko says is customary.
The authorities have also taken the threat of the coronavirus as an opportunity to introduce new regulations targeting migrants. Earlier this month, Prime Minister Mikhail Mishustin signed an action plan to fight coronavirus – including a clause allowing for the deportation of sick foreign citizens. In addition to Covid-19, the list includes 15 other infections, such as tuberculosis and HIV – and Russian officials didn't wait long to use it.
Security guards wearing medical masks at Moscow's Sheremetyevo International Airport. Photo: Svetlana Vidanova / Novaya Gazeta
Just last week, two newly diagnosed HIV patients came under threat of deportation, despite the fact that they had been living in Russia for over 20 years. The two women are twin sisters, whose parents brought them to Russia from Kazakhstan as children. While attempting to renew their residency permits, they underwent routine medical checks and were diagnosed with HIV. By law, they now have 15 days to leave the country.
Meanwhile, the Russian authorities have instituted a temporary ban on all Chinese citizens entering the country. This will undoubtedly have an effect on the Russian economy, which usually benefits from Chinese tourism and trade.
China is the main trading partner and source of foreign investment in Russia's Far East, as well as a huge buyer of Russian oil and gas. In 2018, trade between the two countries hit a record $108 billion, mainly due to the fact that Russia has become China's largest energy supplier.
The roubles devaluation has also made Russia one of the top three destinations for tourists from China, according to the Financial Times. Russian officials estimated that over two million Chinese tourists visited the country in 2019 – spending an estimated total of $1 billion in the process.
READ MORE: Ukraine Says It Has a Plan to Prevent Entry of Coronavirus
/ Translated and abridged by Eilish Hart, with materials from Novaya Gazeta's correspondents Andrey Ostrovsky, Artem Raspopov, Dariya Kozlova and Alexei Tarasov [1], [2]. Courtesy of the Russian Language News Exchange.