When the Russian Security Services came to arrest Elvira Gridasova and her husband, their arrival was not unexpected. Escalating persecution of the country's Jehovah's Witnesses had begun in February 2019. And as Elvira explains to Hromadske's partner outlet, Novaya Gazeta, "We understood they would not stop."
In September, Elvira's husband, Roman Gridasov, was among six Jehovah's Witnesses from the southwestern city of Saratov, who were given sentences ranging from two to three and a half years in prison on charges of "creating an extremist group." In their latest coverage of the ongoing crackdown, Novaya Gazeta sits down with the wives of three of the convicted Jehovah's Witnesses from Saratov, allowing them to share their stories.
The Saratov convictions are part of the latest wave of persecutions targeting Russia's Jehovah's Witnesses, which Novaya Gazeta has been covering extensively since the Supreme Court banned the denomination as an "extremist group" in 2017. Since then, eight members of the religious group have been sentenced to time in prison.
Backstory
No one can say for sure why the crackdown on Russia's Jehovah's Witnesses is happening, but many speculate that it's a mixture of two factors. One theory suggests that the partnership and close cooperation between the Kremlin and the Russian Orthodox Church has motivated officials to help the dominant church eliminate alternative Christian denominations. The second theory, which is in line with a well worn Soviet tradition, speculates that the crackdown is a result of pressure on law enforcement to reach specific targets for the successful prosecution of "extremism" cases.
Artur Leontyev, a lawyer from the Saratov trial, leans towards the second theory. "A command was given at the highest level, [saying] there should be extremism cases. And where would you get so many extremists in the provinces, especially after the decriminalization of [online extremism]? In this respect, the Jehovah's Witnesses were a goldmine," he told Novaya Gazeta.
The strengthening of the crackdown this year began in February, when security forces carried out a major raid in the western Siberian city of Surgut and detained suspected Jehovah's Witnesses en masse. The detainees recall being searched and interrogated at the Surgut Investigative Committee building from 6 a.m. until night time.
According to lawyers and human rights activists, the detainees in Surgut were tortured. Although all of these suspected Jehovah's Witnesses have since been released, investigations into the reported incidents of torture were never completed.
This fall, a new wave of persecutions spread across the country, targeting suspected Jehovah's Witnesses not only in Saratov, but also in the Arctic city of Norilsk and Siberian city of Tomsk:
October 20, 2019: Special operations police raid a campsite in Norilsk where 50 Jehovah's Witnesses came to pray, taking a number of people in for interrogation, in addition to photographing the worshipers, seizing their electronic devices and later searching some of their homes, Human Rights Watch reports.

October 26, 2019: Norilsk City Court arrests the local leader of the Jehovah's Witnesses, Aleksandr Polozov, on extremism charges.

November 5, 2019: A Tomsk Court convicts local Jehovah's Witness leader Sergei Klimov of extremism and sentences him to six years in a penal colony.
The U.S. State Department has been calling on Russia to respect its citizens' rights to religious freedom since the Supreme Court first issued its decision in 2017. And although President Vladimir Putin stated in December 2018 that the "representatives of all religions should be treated equally," Human Rights Watch says that they are "still waiting" on him to come to the defense of the Jehovah's Witnesses and religious freedom.
The Head of the State Department's Press Service, Morgan Ortagus, responded to the verdict on Twitter, saying that the believers were being punished for peaceful religious activity. But Russian Presidential Press Secretary Dmitry Peskov told reporters that he had no information about the lawsuit.
"In jail our guys are considered political prisoners"
The Gridasov family lives in a nine-story panel apartment building on the outskirts of Saratov. Operatives from the Security Services came to their door on Russia Day last year – June 12, 2018 – and searched the two-room flat for 12 hours.
When she heard the initial knock at the door, Elvira Gridasova thought it was an elderly lady from the neighboring apartment: "The knock became stronger and I understood it wasn't the neighbor and I ran to open it. I knew Roma would be taken away no matter what, and I would have to put up a new door," she tells Novaya Gazeta.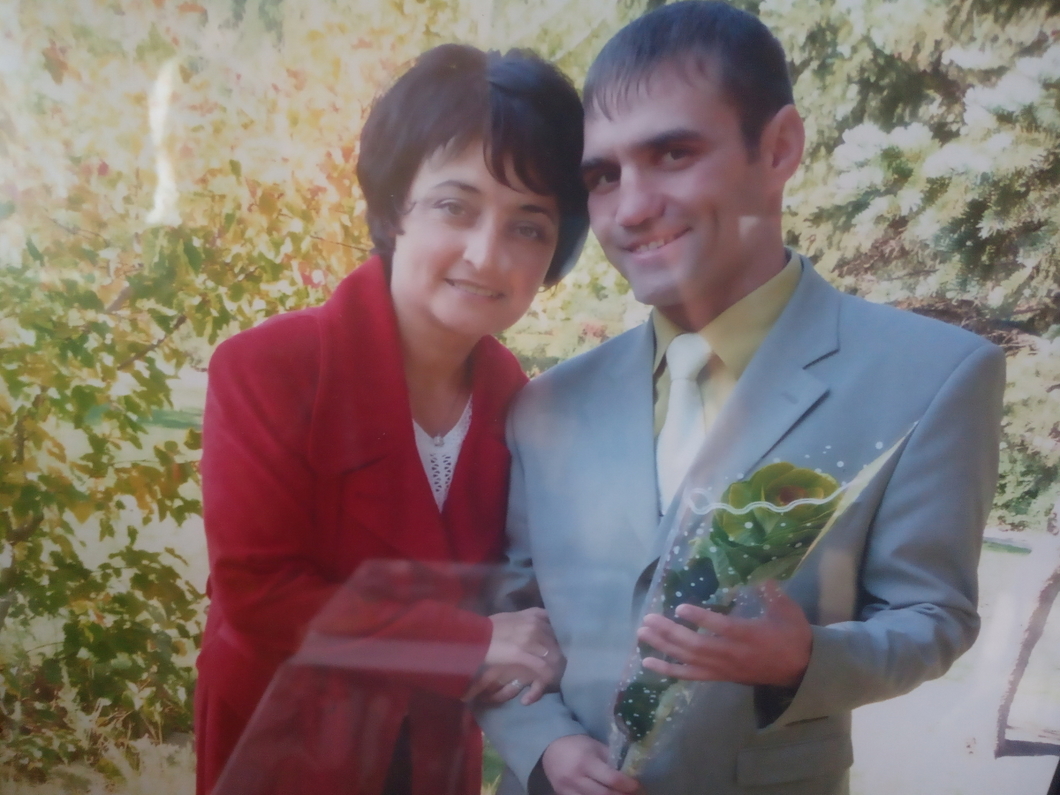 Elvira and Roman Gridasovs. Photo: Timur Aralbaev / Free News
The operatives told the Gridasovs to take out their "forbidden" items and seized their cellphones. Elvira wasn't even allowed to answer calls from her oldest daughter or to phone her boss to take the day off work.
"We had nothing," Elvira explains. "We were given lists in the past so that we knew which publications could no longer be used because they had been deemed extremist."
Nevertheless, the search continued. "In the kitchen, I have cereals in jars. The girl in the room filming us demanded: pour it out!" Elvira recalls "I said, what am I, Cinderella sorting through grains? Give me a newspaper to put underneath at least."
That evening, Elvira and her husband Roman were taken to the regional office of the Federal Security Services (FSB). When she was taken for questioning, Elvira referred to Article 51 of the Russian Constitution, which maintains that no one is obliged to testify against themselves, their spouse and/or close relatives.
"Roma was taken to one room and I [was taken] to another. I answered all the questions using Article 51 of the Constitution. The investigator protested a little. My friend, who was sitting in the corridor, heard how he argued: 'Jehovah's Witnesses are so stubborn, it's impossible to negotiate with them!' At the end of the conversation the investigator gave me a piece of paper [and said] 'Sign!' 'Can I not sign [it]?' I asked, and he told me to go," Elvira says.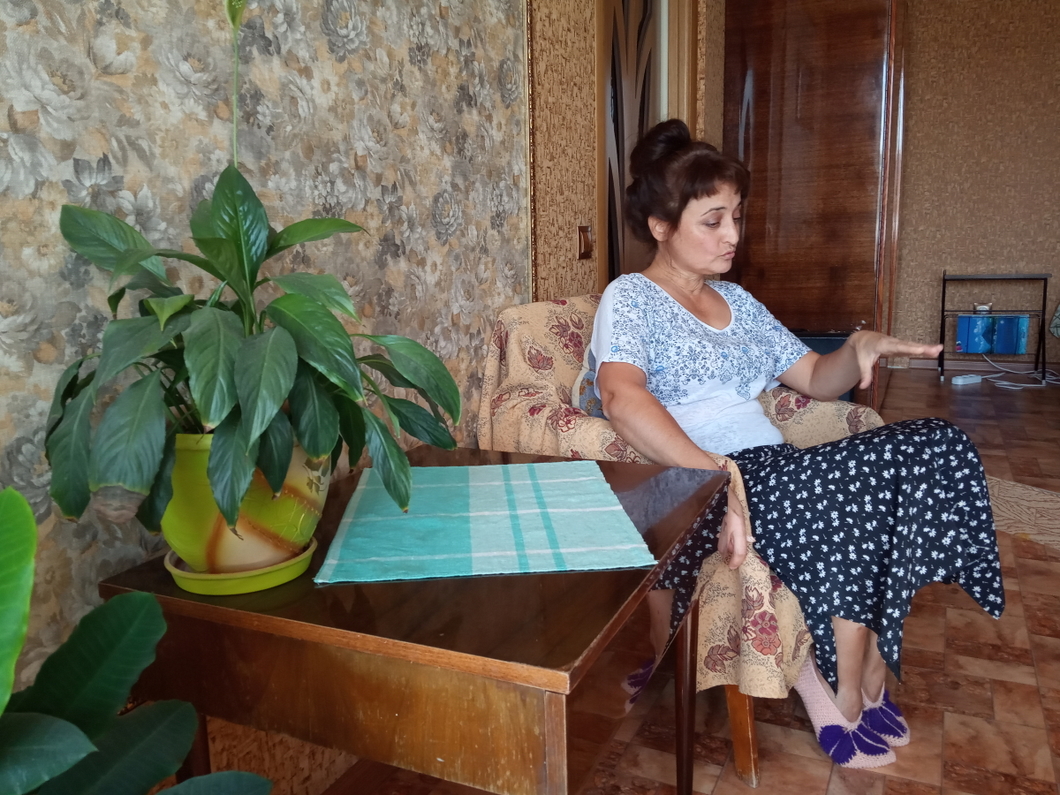 Elvira Gridasova. Photo: Timur Aralbaev / Free News
By eight o'clock that evening, Elvira was standing on Dzerzhinsky Street in downtown Saratov – without her husband, money or a phone. Roman Gridasov spent two more days in a temporary holding facility and was then released on his own recognizance.
"The first week Roma couldn't be at home – he thought it was under surveillance. I would return from work and we would go out for a walk right away. It wasn't easier on the street. It seemed that we were constantly running into the same people or cars," Elvira recalls. "I said, you have to fight this feeling, otherwise you could go crazy. But I myself only calmed down after I did a clear-out and checked every item [in the apartment]."
Elvira began studying the bible in 1993. At the time, she was working two jobs and raising her two daughters alone, but she says her fellow Jehovah's Witnesses made sure that she and her girls wanted for nothing.
She met Roman, a carpenter and handyman, in 2009. "He's a former athlete. Large frame, broken nose. But the first thing I noticed was what a kind gaze he had. Roma has a tenderness inside. He loves to joke, without sarcasm. He says what he thinks. He talks [to me] in the evenings. With my first husband this was missing. Few men like to talk," she says.
The investigation and trial went on for over a year. In the end, the Leninsky District Court sentenced Roman Gridasov to two years in prison – and now he's being held in pre-trial detention. "After the sentence, I couldn't do anything," Elvira tells Novaya Gazeta.
There are six men being held in Roman's cell, which keeps the small room warm. Half of them are smokers and the TV is constantly on. There's a fridge and a tap with only cold water – and they can expect a shower once a week. Elvira takes food to her husband at the pre-trial detention center twice a week and is trying to figure out how to get him a copy of a Russian Synodal Bible. Books for prisoners are not always accepted, for fear that there are secret messages hidden in the text, but there's a bookstore near the pre-trial detention center that works with the prison library.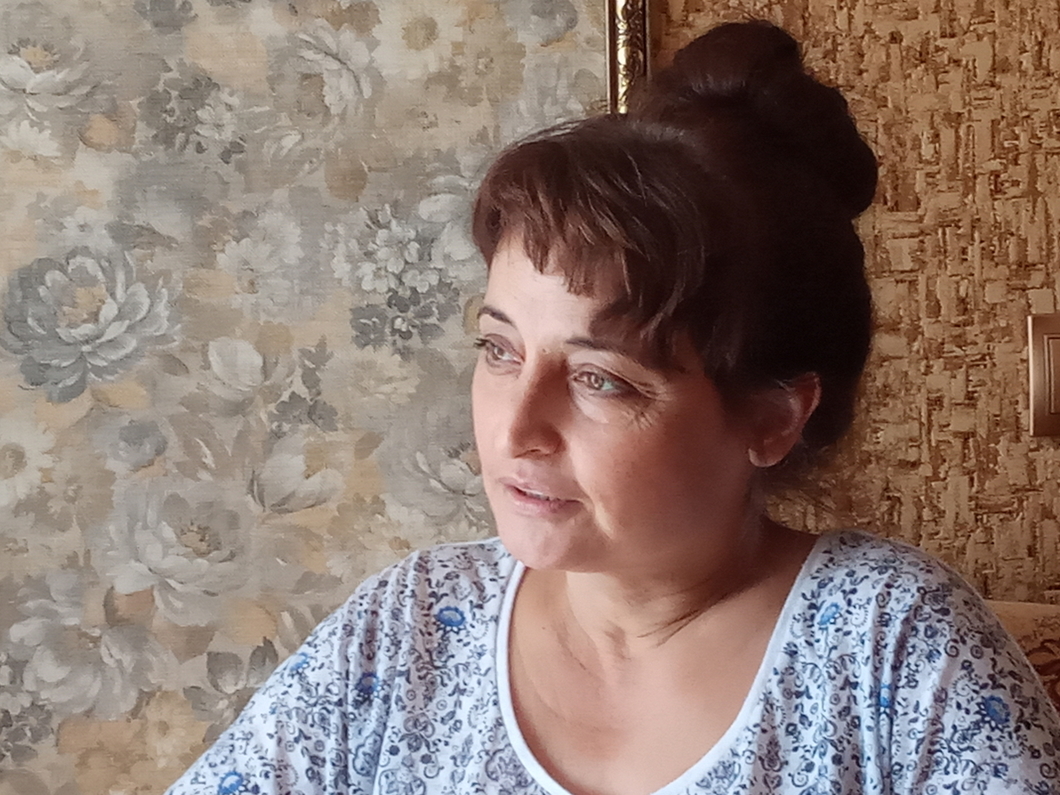 Elvira Gridasova. Photo: Timur Aralbaev / Free News
"Why did they take Roman specifically?" Elvira wonders aloud. "Anyone could be in his place. Maybe they thought that no one would step in on behalf of a simple handyman. In jail, our guys are considered political prisoners. They understand that they are sitting [in jail] for [their] beliefs. There, a man is evaluated more objectively, according to real actions, but on the outside, many people relate to the Jehovah's Witnesses based on stereotypes – a sect, bad people."
"They treated us like enemies. I treated them like guests"
Gennadiy and Nadezhda German's home is easily recognizable thanks to its bright yellow fence. Their dog, Beam, whom Gennadiy took in off the street, barks at the gate. The terrace slopes down to the garden and hens cluck behind a yellowing berry patch.
"Gena built all of this. And he did it for me," says Nadezhda, smiling. "We really love healthy food, a healthy lifestyle and life itself. True, it's hard for me to love it now."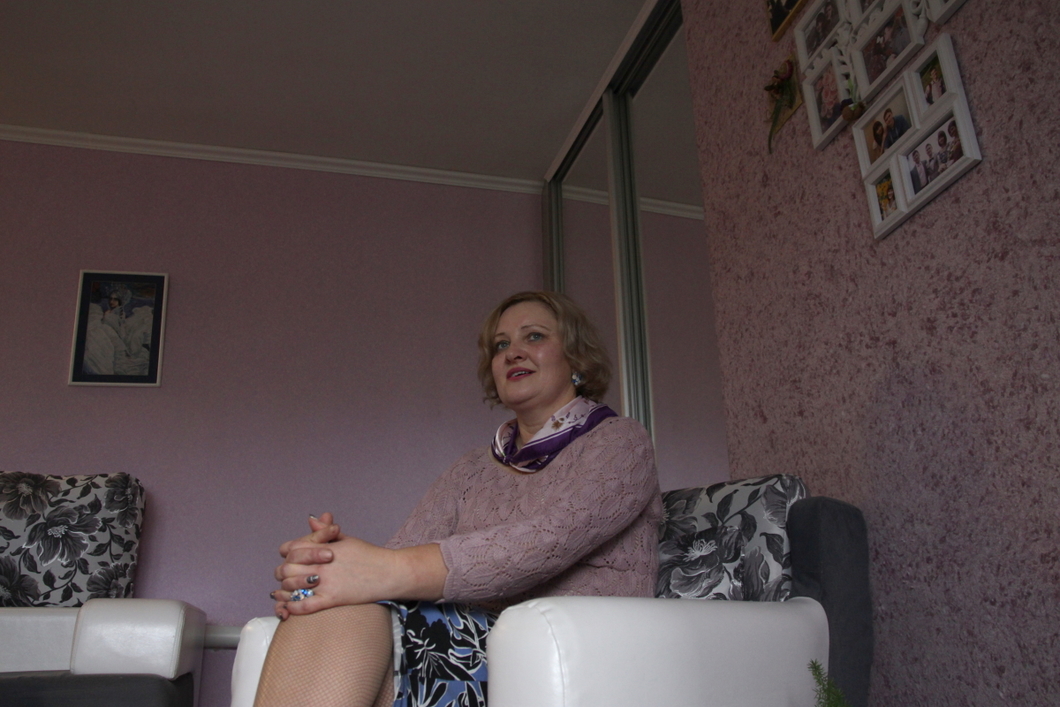 Nadezhda German. Photo: Matvey Flyazhnikov / exclusively for Novaya Gazeta
Nadezhda first encountered the Jehovah's Witnesses in Khabarovsk in 1992. "I got the impression that these are honest, decent men in beautiful suits. This was important to me because I am a tailor by profession," she recalls.
At the time Gennadiy was serving in the army – Nadezhda proposed to him herself, giving him two days to think it over. "I felt he would make sure that I was happy," she explains. Three years later, the couple move to a remote village in the Saratov region with their young son, to look after her ailing mother. After her mother passed, the family moved to Saratov, where they built their house from scratch and have lived ever since.
The Security Services came to Gennadiy and Nadezhda on June 12, 2018. It was Gennadiy's fiftieth birthday.
"In the mornings I run, pray, read the bible. At 5:55 a.m. I was already awake. People in masks knocked on both doors, from the street and from the yard," she recalls. "They treated us like enemies. I treated them like guests."
"I said, 'Let's do this without fanaticism. I won't lay on the floor, it's cold. Sit in a chair, relax, do you have documents?'" Nadezhda continues, explaining that the investigator then came in and tried to get her to cooperate. "I replied that traitors don't fare well – like Judas, for example."
After interrogation at the FSB office, Gennadiy was taken to a temporary holding facility for two days and Nadezhda returned home alone.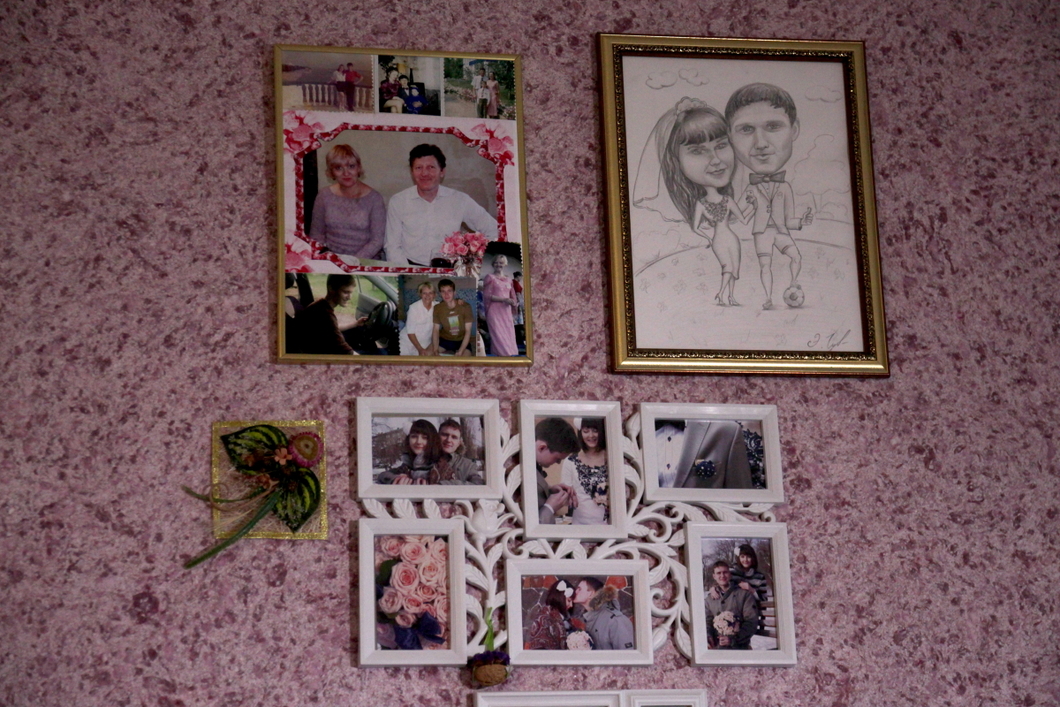 Germans' apartment. Photo: Matvey Flyazhnikov / exclusively for Novaya Gazeta
"All of [our] cards were blocked. [Our] cash – 40,000 roubles we had put aside for a vacation – had been seized. There was 50 roubles on the table – that's all that was left," Nadezhda tells Novaya Gazeta. Fortunately, the owners of the construction site where German worked as a salesman agreed to give his wife his pay.
The court proceedings for the case began this summer at the Leninsky District Court, which is housed in a former kindergarten. "40 people came to every hearing. The room was packed," Nadezhda explains. But a week before the sentencing, their lawyer advised they pack a bag. Gennadiy was taken into custody from the courtroom after being sentenced to two years in a penal colony.
"When I came home after the sentence, I saw the supplies in the kitchen – two bags of fresh potatoes, beef heart cooked with spices and laid out on my favorite plate," Nadezhda recalls. "My husband made it for me in the morning before the trial, while I was at work."
"How do you find out if someone's alive?"
"Since the wedding, we've always been together," Evgeniya Makhammadiyeva says, telling Novaya Gazeta about her husband, Felix. On October 8, 2019, the couple celebrated their eighth wedding anniversary – even though her husband is in jail.
"Most often we spend this day together. Last year Felix was under arrest in a pre-trial detention center. But he managed to give me a present there," Evgeniya says, taking out a small necklace made from a string of blue and black plastic beads. "This is the most important gift to me. I wear it during visits with my husband."
Photo: Matvey Flyazhnikov / exclusively for Novaya Gazeta
The young couple were detained on the same day as the other Saratov Jehovah's Witnesses, June 12, 2018, at around 10 a.m. in the parking lot of a shopping center.
"We were going shopping and suddenly a van pulled up. People with weapons twisted our arms, threw us in the car, shouting obscenities," Evgeniya recalls, "They didn't introduce themselves, the car was unmarked. I have never been treated that way...When we were brought to the FSB building I realized what was happening. I said to myself, Zhen', this is already happening to you. No need to be startled at the sound of footsteps in the stairwell, they have already come for us."
Felix ended up in a temporary detention center, then in pre-trial detention. "I didn't know what it was or where it was located. How do you find out if someone's alive [or] if they're being tortured?" Evgeniya says.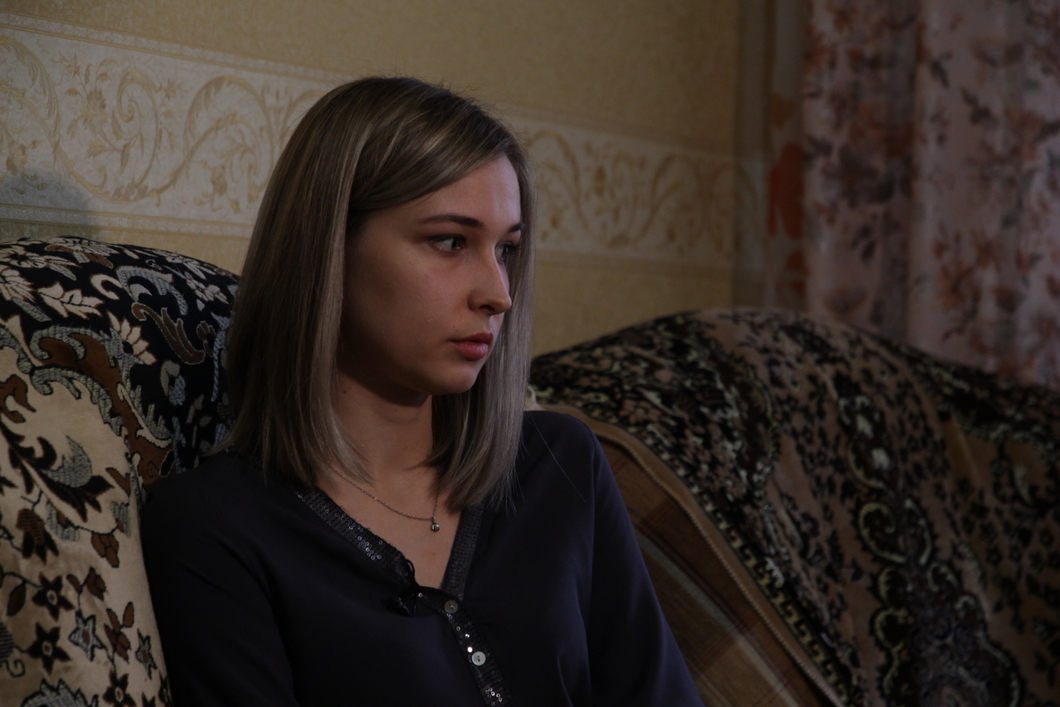 Evgeniya Makhammadiyeva. Photo: Matvey Flyazhnikov / exclusively for Novaya Gazeta
For six months the arrestees were denied visits. Then the couple were allowed to see each other twice a month. "First you need to get permission from the investigator. It actually took three days. If for any reason you missed the time period, the visit is 'burned' and they won't give you another one to replace it," Evgeniya explains. "Moreover, it's forbidden for people involved in the case to visit with each other. So the wives of the other guys and I tried to choose different times."
To make matters worse, Felix Makhammadiyev suffers from celiac disease, an incurable gluten intolerance – and getting his medications to him has been difficult.
"To receive medications, Felix has to write a statement to the detention center's doctor," Evgeniya explains. "After the application is approved, I have to buy the drugs and take it to the doctor at the pre-trial detention center with a sales receipt, a pharmacy certificate and other papers. It takes an hour once a week. They won't give the medications to Felix directly. The doctor himself has to give it out one tablet [at a time]."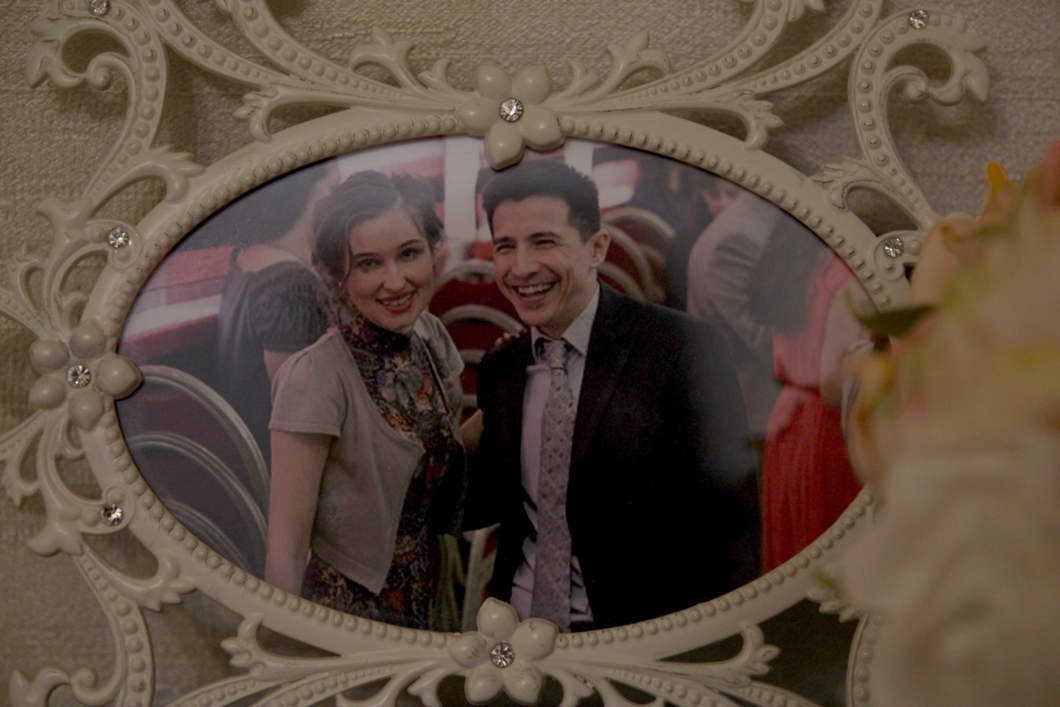 Evgeniya and Felix Makhammadiyevs. Photo: Matvey Flyazhnikov / exclusively for Novaya Gazeta
The prosecutor's office asked for a six to seven-year prison sentence for Felix – and his relatives were sure he would be convicted, after seeing that "there were no acquittals for the Jehovah's Witnesses" in other regions.
"The deliberations and final verdict lasted late into the night. I was convinced that the judge would need time to think it over. I never expected that the sentence would be announced the next day. Surely the decision was written in advance?" Evgeniya says, doubtfully. "The judge read for a long time. I got tired of standing, I understood little … And then I looked out the window and [saw] the paddy wagons approaching."
Felix was sentenced to three years in prison. His relatives and fellow believers had been waiting on the street for two hours when the convicts were taken from the courthouse to the police wagons. "We clapped for everyone and shouted that we love [them]," Evgeniya recalls.
She wipes her eyes and looks out the window at the falling leaves for several minutes, then says: "It's not in my nature to be as strong as I need to be now. But since we survived this year, it means we can go on."
/Adapted by Eilish Hart, with materials from Nadezhda Andreyeva of Novaya Gazeta. Courtesy of the Russian Language News Exchange.