Ukrainian servicemen on the day of prisoner exchange near the Mayorske checkpoint, Donetsk region, December 29, 2019 Photo: EPA-EFE/YEVGEN HONCHARENKO
A prisoner exchange took place between Ukraine and the self-proclaimed "DPR" and "LPR" at the Horlivka-Mayorske checkpoints in the Donetsk region on December 29. Hromadske was there to provide you with live updates on the exchange.​
All updates given in Kyiv time zone (Eastern European Time).
Here's a full list of the 76 Ukrainians that government-controlled Ukraine received from occupied Donbas territories on December 29:
Oleksandr Heymur
Borys Pundor
Kim Duvanov
Volodymyr Voskoboynyk
Serhiy Hlondar
Oleksandr Korinkov
Bohdan Pantiushenko
Serhiy Ivanchuk
Stanislav Aseev
Oleg Galaziuk
Denys Koval
Olena Sorokina
Oleksandr Tymofeyev
Maryna Chuykova
Vasyl Zhemelinskyi
Ivan Deyev
Yuriy Yevtushok
Tetiana Horbulych
Volodymyr Danylchenko
Oleksandr Danylchenko
Eduard Aloyan
Roman Fursov
Roman His'
Andriy Yarovyi
Roman Korkishko
Ivan Katyshev
Anastasiya Mukhina
Viktoriya Voronina
Denys Oliynyk
Anatoliy Semerenko
Valeriy Tarasiuk
Vitaliy Buyanov
Valeriy Semenov
Andriy Kochmuradov
Olena Lazarieva
Dmytro Batrak
Nataliya Karachor
Borys Pundor
Valentyna Yeremenko
Vadym Zavatskyi
Oleksandr Paukov
Denys Sekatskyi
Yuriy Tuchyn
Yevhen Tsyhaniuk
Vitaliy Anikimov
Larysa Bahnenko
Artem Brazhnykov
Volodymyr Burtsev
Tetiana Honcharova
Olha Hubkina
Vasyl Derkach
Andriy Zhenchus
Dmytro Karpuk
Serhiy Keriukhin
Yakiv Kryvosheiev
Oleh Kulakov
Ihor Kulish
Zinaida Maltseva
Serhiy Nikolaiev
Stanislav Pechonkin
Roman Pysanets
Kyrylo Polikarpov
Oleksandr Poliakov
Oleksandr Repetylo
Serhiy Robak
Valeriy Romanchenko
Vasyl Savin
Valeriy Sokolov
Maksym Teorenter
Halyna Tereshchenko
Serhiy Usatiuk
Vadym Khalymendyk
Ruslan Sheyter
Alla Yarmyshko
And here are some of the names of the people whom Ukraine handed over to the occupied Donbas:
Larysa Chubarova
Viktor Tetiutskyi
Serhiy Bashlykov
Volodymyr Dvornikov
Oleh Yanishevskyi, Serhiy Zinchenko, Pavlo Abroskin, Serhiy Tamtura, Oleksandr Marynchenko
Daria Mastykasheva
Serhiy Dolzhenkov
Ruslan Gadzhyiev
Rafel Lusvarghi
Artur Denisultanov
10:36 p.m. With that we are closing our live coverage of the exchange. Thank you for tuning in!
10:28 p.m. Valeria Lutkovska, a representative of Ukraine in the Trilateral Contact Group negotiations in Minsk told that 17 people refused to move to the territory controlled by the self-proclaimed "republics". Another 30, she said, have refused to participate in the exchange at all.
10:14 p.m. "Six of the freed Ukrainians opted to stay in the occupied territories with their families. They will be welcomed to the government-controlled territory whenever they choose to," – Zelenskyy added.
10:09 p.m. "It was my choice [to release five ex-Berkut officers] – I had to return those who were alive. I would have exchanged 100 Berkut fighters for one intelligence officer," – Zelenskyy said.
10:06 p.m. "It's a big victory, but the main thing is people are home – they will be celebrating winter holidays with their families," – President Zelenskyy stated.
9:46 p.m. The former prisoners are meeting their relatives.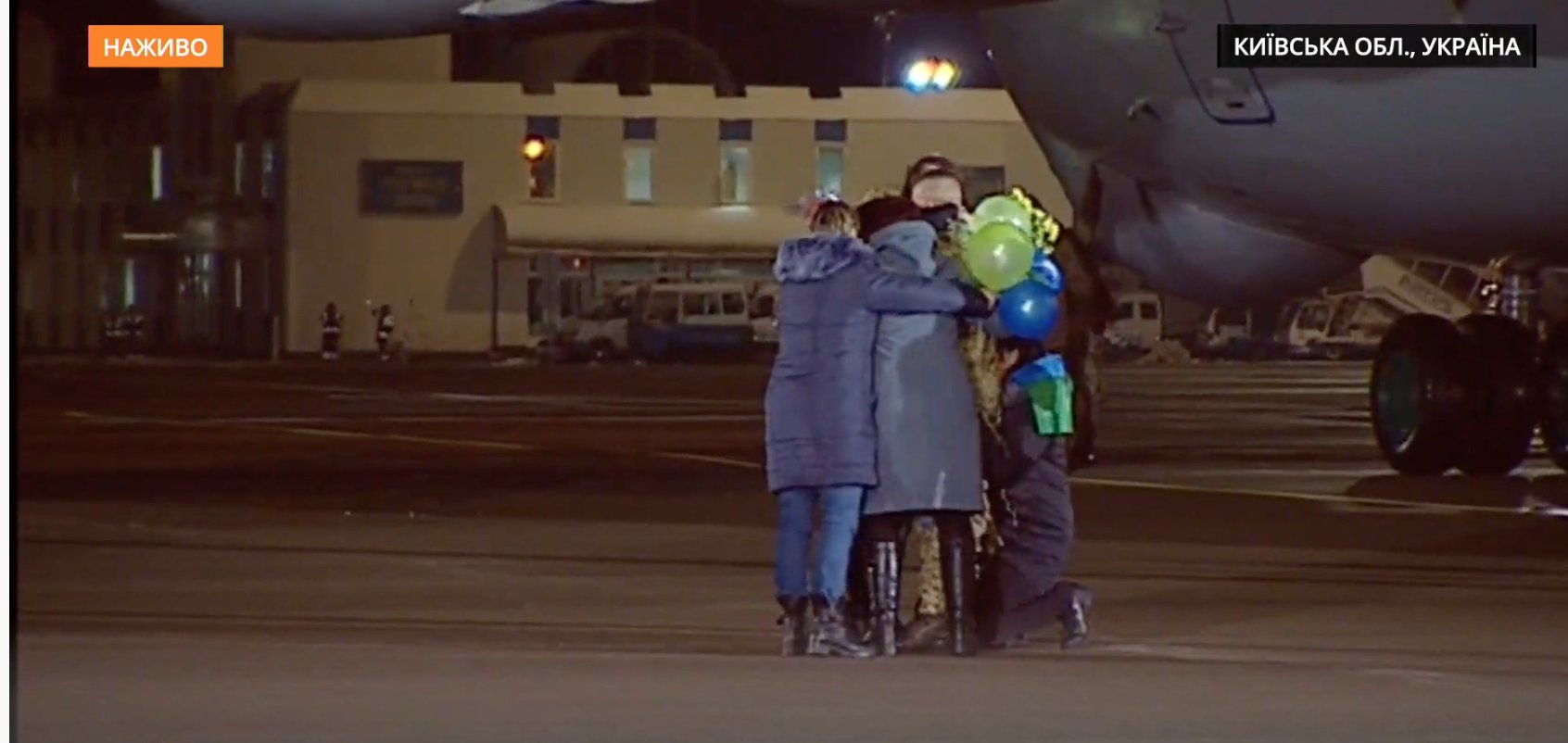 9:38 p.m. The plane has already landed at the Boryspil airport.
7:57 p.m. Artur Denisultanov, a Chechen accused of attempted assault on volunteers Amina Okueva and Adam Osmaev in the summer of 2017, was handed over to the so-called "DPR" as part of a prisoner exchange, a journalist Katerina Sergatskova reported.
READ MORE: Who Was Amina Okueva, The Chechen-Ukrainian Sniper Killed This Week?
​6:25 p.m. The buses which would probably take the released Ukrainians are already in the Boryspil International Airport. However, it remains unclear when the former detainees would arrive at the airport.
Boryspil International Airport on December 29, 2019. Photo: Anna Tokhmakhchi / Hromadske
​5:37 p.m. 64 civilians and 12 servicemen were freed by the self-proclaimed "republics" today.
Mayorske checkpoint, Donetsk region, December 29, 2019. Photo: Presidential Office
5:28 p.m. The Security Service of Ukraine (SBU) has published the full list of Ukrainians that returned to the government-controlled territories as part of the exchange.
4:54 p.m. "Ukraine has once again proved that the main value for the state is its people. We will never leave our compatriots without attention and support [...] Of course, we have not managed to get everyone back, but the work on the further release of our citizens continues," Ukraine's Ombudsperson Lyudmyla Denisova wrote.
4:34 p.m. Four Ukrainians who were released by militants refused to participate in the exchange and stayed in the occupied territories because they have families there, advisor to the Secretary of the National Security and Defense Council Serhiy Sivokho stated. Ukraine was ready to give away 141 detainees, but 14 of them refused. In the end, 127 detainees were released by Ukraine today.
4:24 p.m. A soldier Bohdan Pantiushenko, and law enforcers Serhiy Hlondar and Oleksandr Korinkov were also freed.
READ MORE: These Ukrainians Might Be Freed From Donbas Captivity Before NYE
4:14 p.m. Journalists Stanislav Aseev and Oleh Halaziuk are among the freed.
Stanislav Aseev gets off the bus at Mayorske checkpoint, Donetsk region, December 29, 2019. Photo: Presidential Office
READ MORE: Ukrainian Journalist Stanislav Aseev Sentenced to 15 Years in Occupied Donbas
4:09 p.m. The exchange is over with 76 Ukrainians returning to the government-controlled territories, Presidential Office stated.
Mayorske checkpoint, Donetsk region, December 29, 2019. Photo: Presidential Office
3:18 p.m. The five ex-Berkut officers were given away by Ukraine as part of the exchange.
2:56 p.m. Ukrainian serviceman Serhiy Ivanchuk who was freed within the exchange between Ukraine and the so-called "LPR" says he was captured on February 4, 2017, and was later sentenced to 25 years in prison. Ivanchuk told that he, as the Special Forces, fulfilled his task behind enemy lines but was captured.
Serhiy Ivanchuk. Photo: Ivan Bukhtiiarov / Hromadske
2:23 p.m. Filmmaker and former political prisoner Oleg Sentsov criticizes the prisoner exchange that is now taking place.
2:19 p.m. Hromadske's local correspondent Ivan Bukhtiiarov found out that the Ukrainian captives, who were detained by the so-called "DPR" and are to be released, are now in occupied Horlivka.
2:12 p.m. So far, 25 prisoners were handed to Ukrainian authorities by the representatives of the so-called "Luhansk People's Republic". The number of Ukrainians that will return to the government-controlled territories remains unknown. The so-called "DPR Ombudsperson" Daria Morozova said that 55 people would be handed over to Ukraine by the self-proclaimed "republics". How many would be given away by Ukraine is also unknown.
12:48 p.m. The first group of Ukrainians was freed! The four servicemen that were held in the Russia-occupied territories – Serhiy Ivanchuk, Yuriy Yevtushok, Ivan Deev, and Roman Fursov – are among them.
12:30 p.m. The lawyer of the former Berkut officers Ihor Varfolomeyev argues that all five are on the bus waiting for the exchange. The three detainees accused of killing 48 and injuring 80 people on Instytutska Street on February 20, 2014, – Oleh Yanishevskyi, Serhiy Zinchenko and Pavlo Abroskin – were taken out of the Lukyanivske pre-trial detention center and brought to the checkpoint although the pre-trial detention center was blocked during the night by activists.
READ MORE: UPDATED: '5 Ex-Berkut Officers Charged With Maidan Crimes Are on Exchange List' - Prosecutor
12:12 p.m. The verification has started. The first group of imprisoned Ukrainians was asked if everyone agrees to move to the government-controlled territory of Ukraine. Everyone unanimously answered "Yes!"
11:59 a.m. Ukrainians who were detained by the Donbas militants are getting off the buses.
11:57 a.m. Preliminary information suggests that 80 Ukrainians would be released within the exchange, said Ombudsman Lyudmila Denisova.
11:23 a.m. President Volodymyr Zelenkyy's Office confirms that the exchange has already started.
Thanks to the support from our readers, Hromadske International has been existing for five years. We cover hot-button political topics, high-profile corruption, and human rights issues. We report from the Donbas and annexed Crimea. If you would like to support Hromadske International, you can donate on this page.
Unlike many other media in Ukraine, we are not owned by oligarchs or politicians. Please help support independent journalism in Ukraine.