Illustration: Petr Sarukhanov / Novaya Gazeta
This fall, the Moscow Mayor's Office launched a new facial recognition system, installing and updating 162 thousand CCTV cameras in the Russian capital. The mass surveillance system is one of the main projects in Moscow's Smart City — 2030 program, which is set to build a system of digital control over its citizens.
The Moscow officials behind the Smart City program are trying to sell it as something that can turn the capital into Russia's own Silicon Valley. But as Hromadske's partner outlet Novaya Gazeta explains, in reality, it will look more like the system of total surveillance China has installed to spy on the Muslim minority in Xinjiang.
Key Facts
In May 2019, Moscow Mayor Sergei Sobyanin announced a competition to create a large-scale face recognition system, which would include over 200 thousand CCTV cameras. The Moscow-based microelectronics company Sistronics — controlled by Russian conglomerate AFK Sistema — is now handling the project.

Russia is working closely with China for the development of its urban video surveillance system, since China has had a similar system in operation for four years.

The Moscow Mayor's Office is planning a 20 percent increase in funding for the city's Department of Information Technology and is set to spend around $3.7 billion on updating the city's technology from 2019 to 2021. This is almost as much as the amount allocated for investing in Moscow's urban development and improving utilities infrastructure.

Russia currently has no legislation to regulate the use of face recognition technology and the wording of the law "on personal data" is very vague. This creates a huge opening for abuse of the system.
'Smart City' Façade
As cities around the world compete to integrate digital technologies into municipal governance, many see this as a welcome pivot towards more efficient urban communities. So when Moscow launched its Smart City – 2030 program, it appeared as though the authorities were doing exactly that.
Recently, the Russian capital took first place in the United Nation's E-Government Survey, which was something Mayor Sergei Sobyanin had been working towards for several years by steadily increasing investments in digital technologies. But underneath this façade, Moscow's campaign for becoming a 'smart city' is largely pushed by a pragmatic desire to avoid painful reforms and the Kremlin's expansion of state surveillance.
Moscow began experimenting with the introduction of digital technologies when Sobyanin took office in 2010. According to officials, this was in part a response to requests from Muscovites themselves, who wanted more convenient public services, but also part of an effort to increase administrative efficiency.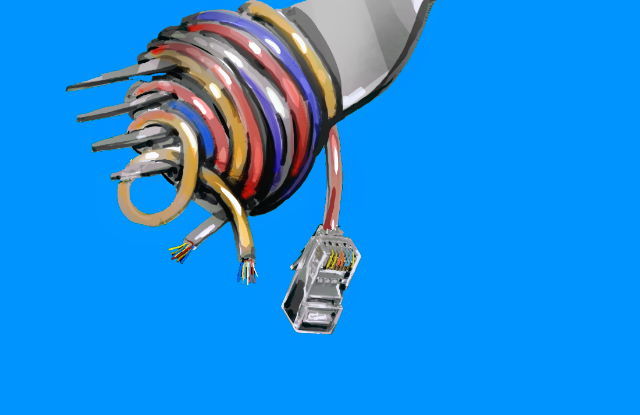 Illustration: Petr Sarukhanov / Novaya Gazeta
The Moscow government advanced the city's technology in several stages, beginning with the transition from physical paperwork to electronic document management (2010-2012), followed by "computerization" to synchronize a number of automated processes (2012-2016) and finally, beginning to actively work with big data.
That being said, the Mayor's Office was also had pragmatic incentives for undertaking technological upgrades. "Working with IT [to gain] international rankings is much easier than working on ecology, urban policy or social support. These are all difficult and complex tasks. But the 'Smart City' system is much simpler to implement because the Moscow government is working with a clean slate. They can do everything from scratch, without entering into big conflicts and public discussions," explains sociologist Peter Ivanov.
In Moscow, Big Brother is Watching You
Some of Moscow's more high-profile digitalization projects have nevertheless captured public attention – in particular, the introduction of an AI-powered video surveillance infrastructure and a facial recognition system, which the Moscow authorities pitched as a security measure.
The pilot project for introducing smart cameras was launched in the Russian capital in 2017. According to the Mayor's Office, over 3,000 CCTV cameras were connected to the facial recognition system in September of that year.
The system gained widespread recognition when Russia hosted the FIFA 2018 World Cup. Matches were held in several cities and police were able to detain over 180 people during the period of the competition (including some from the criminal offenders database and the federal wanted list) using only 500 cameras.
The large-scale introduction of smart cameras in Moscow began in 2019 and as of this fall, 40 percent (162 thousand) of the 200 thousand CCTV cameras targeted have already been installed and updated.
China's Dystopian "Techno-optimism"
Russia has been working closely with China to develop its urban video surveillance system. This summer, the Moscow city government sent a delegation to Beijing to study their video surveillance and analytical systems that process collected data.
But China's "techno-optimism" has taken on a dystopian character. Since 2014, China has been testing a "social rating" system that awards citizens points for "decent" behavior and penalizes them for "misconduct." China's facial recognition system began working in 2016 and now encompasses 20 million CCTV cameras. Chinese police are able to identify a particular person even in a crowd of 60 thousand people.
Most of these smart cameras are concentrated in the Muslim region of Xinjiang, where the population of 13 million people is under near total surveillance and faces religious repression, arbitrary mass detentions and "political education camps," Human Rights Watch reports.
Support for this powerful surveillance infrastructure comes from the state-owned company CEIC, which operates in China and produces its technologies for export. The company's only European branch is in Moscow.
That being said, introducing total surveillance the way China has would require a level of coordination at the national level that Russia lacks both economically and socially, says sociologist Peter Ivanov.
"European countries have a democratic process for the problems [China] solves. In this regard, Russia is still a more European country. In our country, facial recognition will sooner turn into a dangerous toy for the security services, than an instrument of mass social engineering," Ivanov says.
Russia still has a low level of digitalization overall and the authorities are insufficiently motivated to organize mass surveillance, says political scientist Malek Dudakov. However, even without becoming a "digital concentration camp" this technology can pose a serious risk to Muscovites.
Surveillance without Limits
Russia currently has no legislation to regulate the use of facial recognition technology. According to the law "on personal data," biometrics are only allowed to be used with the consent of the individual in question. However, this restriction can be lifted in exceptional cases, such as to counter terrorism, protect public order or for defense purposes.
The campaign against the introduction of identification systems in Moscow began with a lawsuit from activist Alena Popova. On the basis of a video from a surveillance camera, Moscow's Tverskoy District Court fined her 20 thousand roubles (approximately $313) for holding a single-person picket outside of the State Duma building.
Popova's face was identified after the image was enlarged 32 times. The activist is confident that this constituted the illegal use of biometric data and a violation of the right to privacy, which the Russian Constitution guarantees.
The cordon of the security forces at the Moscow City Hall on July 27. Photo: Anna Artemyeva / Novaya Gazeta
That being said, the wording of the law "On personal data" is very vague, creating a huge opening for abuse of the system, says Sarkis Darbinyan, a lawyer from the digital rights organization Roskomsvoboda.
"The authorities were motivated to introduce the system because it is needed to ensure public order, but there are no provisions in the legislation that would provide procedures for accessing the system [and] monitoring for unauthorized access and data leaks," Darbinyan explains. "The general problem with the Russian legislation is that neither offline nor online surveillance currently have clear criteria [for] when it is permissible and in relation to what group of people."
As it turns out, law enforcements' actions are basically unregulated, which becomes problematic when there are false alarms in the surveillance system (such as when someone is misidentified). Meanwhile, the disappearance of anonymity poses an existential risk as well as a legal one, as technology continues to infringe on individuals' privacy.
Introducing a mass identification system also poses the risk of large-scale data leaks and Russia is known to have problems with data security. And a drain of a centralized database that contains the biometric data of Moscow's residents could have disastrous consequences.
"Russia still has yet to become a country with adequate data protections. We do not have an independent regulator to deal with privacy issues. Currently we only have Roskomnadzor for this, which does not meet the criteria of independence," explains Roskomsvoboda lawyer Sarkis Darbinyan, referring to the Russian government's online censorship body.
Surveillance Tech Push Reveals Increasingly Authoritarian Putin
In October 2019, Roskomsvoboda's lawyers issued a statement demanding a moratorium on the use of digital identification systems, which would include recognizing the Moscow government's actions and the Moscow City Police's use of facial recognition technology as illegal.
"It's necessary to introduce a number of new regulatory provisions, to clarify the instances and grounds for using facial recognition technology. Until this work is done, the authorities should introduce a moratorium on the use of this technology in Russia," Darbinyan emphasizes.
However, introducing a moratorium presents a number of difficulties. Firstly, it's not completely clear which services it should apply to and secondly, identifying those who are using identification services illegally is technologically extremely difficult.
What's more, the majority of Russians are not particularly sensitive about their personal data and even less so about biometrics.
"Unlike in the United States, we have no movement for maintaining data confidentiality. If there's no public pressure, then there will be no desire to introduce a moratorium," says political scientist Malek Dudakov.
In any case, the Russian leadership are highly unlikely to suspend digitalization. The emphasis on new technologies is set to play an important role in ensuring the transition of power ahead of the end of President Vladimir Putin's final term in 2024, which should be carried out by progressive "technocrats," says Andrei Kolesnikov, a senior fellow at the Carnegie Moscow Center.
"Digitalization creates a progressive image for the authorities, especially since the whole world is doing it now," he explains.
Modernization is also necessary for the survival of the current political system, experts say. The widespread introduction of technology should create a more convenient "new bureaucracy" that will ensure the transparency and governability of different sectors of society.
"The fascination with the technological side of modernization is generally characteristic of authoritarian regimes," explains political scientist Abbas Gallyamov. "In other sectors authoritarian power is forced to act conservatively and is often openly retrograde. Therefore, authoritarian governments try to compensate for this archaicness with technological modernization."
That being said, technological modernization is more beneficial to the security forces than the "young technocrats." And facial recognition technology can turn from an innovative method of fighting crime to a repressive machine in an instant.
Now, smart cameras are being used to target people the authorities deem undesirable. Sites have even appeared online that use facial recognition technology to "expose" participants in opposition rallies.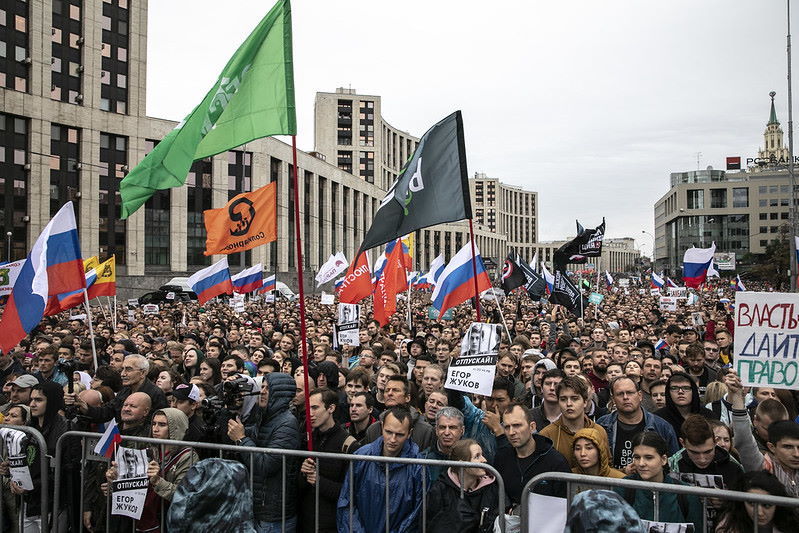 The rally on Sakharov Avenue in Moscow. Photo: Vlad Dokshin / Novaya Gazeta
"Suppose the Interior Ministry or the [Federal Security Services] know that someone is a political activist or a human rights defender, if this person is walking towards a building with something that looks like a poster, he can be detained in advance, even if nothing illegal was planned," explains sociologist Peter Ivanov. "Nothing remains of the presumption of innocence."
After the summer of protests in Moscow, law enforcement are looking for more effective ways to deter citizens from attending rallies, since detentions, arrests and criminal cases don't always produce the desired result. And the most effective way they found is to put pressure on citizens is the threat of fines.
"They tried [fighting the demonstrations] with force but it turns out this works poorly and looks even worse," says a Novaya Gazeta source from inside the Presidential Administration. "With the help of facial recognition systems – if you can connect them to people's profiles on social networks and public services – you can send fines to people [directly]."
In this scenario, there would be no more riot police patrolling the streets and citizens would have to ask themselves not "is it worth going to this rally?" but "how much will this rally cost me?"
READ MORE: Russia Test Drives Its "Great Firewall"
/Adapted by Eilish Hart, with materials from Dariya Kozlova and Arnold Khachaturov of Novaya Gazeta. Courtesy of the Russian Language News Exchange