"Because of the coronavirus, I stopped going to see my own parents. I live in Tiraspol and they are in Bender (15km apart - ed.), getting there now is problematic because of the restrictions on transport. I still go to work by bicycle. I'm afraid I'll lose my mind if they introduce complete isolation." — Aleksandra, 22-year-old resident of Transnistria
Unrecognized, disputed and Russian-occupied territories throughout Eastern Europe have always been pockets of instability and poverty, where basic healthcare needs depend either on international humanitarian aid or Moscow's money transfers. But the global coronavirus pandemic threatens to turn them into Europe's saddest COVID-19 tragedies, with millions of people left completely isolated from proper care or testing.
Seven newsrooms from six countries, including hromadske, contributed to this story by the Russian Language News Exchange, documenting the COVID-19 rapid spread across unrecognized territories in Eastern Europe and the lives it has already devastated.
Backstory
Many of the unrecognized territories in Eastern Europe and the Caucasus emerged due to ethnic and/or territorial conflicts that followed after the Soviet Union's collapse. Since then, Russia has regularly intervened to support or instigate separatist movements in countries throughout the region.
To this day, the Kremlin continues to provide both military and financial backing for almost all of these "states" that most other countries do not recognize. Meanwhile, thousands of Russian troops remain in some of these territories and, in some cases, even control their de facto borders with the countries they are internationally considered a part of.
Abkhazia & South Ossetia
"All of a sudden, we'll start seeing cases pop up here…then they'll close the border with Russia. Let's make sure we at least have porridge stocked at home." – Marat, resident of South Ossetia.
Empty streets in Abkhazia's capital, Sukhumi. Photo: JAM News
Abkhazia and South Ossetia are unrecognized breakaway territories in the South Caucasus; most countries consider them autonomous regions of Georgia.
Abkhazia (population: 245,000) reported its first case of COVID-19 on March 30, which led to a lockdown in the predominantly ethnically Georgian Gal district starting the next day. However, since the patient was hospitalized in Georgia proper, there are officially no cases of the coronavirus in the self-proclaimed breakaway state. Meanwhile, unrecognized South Ossetia (population: 53,000) also has yet to report any cases of COVID-19.
That said, there is good reason to take these "official" claims with a grain of salt.
"It was impossible even to check whether somebody had coronavirus or not," said JAMnews editor-in-chief Margarita Akhvlediani, when asked about the COVID-19 outbreak in the breakaway regions. "The biggest problem probably is not just the [coronavirus] tests in South Ossetia and Abkhazia, the problem is that they have just one intensive care ward, and they don't have specialists at all."
Furthermore, Akhvlediani says that the unrecognized breakaway territories have refused to accept aid from Georgia, including offers to send over test kits for COVID-19, as well as medications and doctors.
READ MORE: "Only One Intensive Care Ward" for Unrecognized Territories of South Ossetia and Abkhazia
Although South Ossetia's health authorities insist it has sufficient resources to handle the epidemic, the region's Chief Medical Officer, Marina Kochieva, has expressed concerns about the fact there is only one laboratory in the region equipped to deal with this type of infectious disease.
"There are no other laboratories and we're going to have to use what we've got," Marina Kochieva said."We took the responsibility upon ourselves to send two employees to take a training course in the Stavropol Region [of Russia]."
Kochieva also confirmed that the region is lacking supplies and suffers from a severe shortage of medical masks, hand sanitizers, and certain medicines. The local infectious disease hospital has reportedly prepared a ward as a designated intensive care unit, but it only has one ventilator.
According to our partner outlet JAM News, the unrecognized authorities in South Ossetia have banned all cultural events scheduled for after March 26 and tightened the border with Russia. Entry from Georgia is banned completely.
READ MORE: Life through Barbed Wire: The Georgia-South Ossetia Demarcation Line
Schools and kindergartens were closed from March 18 to 30, allegedly due to "seasonal flu."
As of April 13, 208 people had officially been placed under quarantine in South Ossetia because of coronavirus-like symptoms, with most of them self-isolating at home after returning from affected countries abroad.
These piece-meal measures in South Ossetia have reportedly sparked panic buying, as people purchase groceries and other essentials en masse. "Since March 16, cereals, pasta, toilet paper, juices, and oil have been flying off the shelves." a convenience store owner in South Ossetia told JAM News. "People are buying food like it's New Year's Eve."
Meanwhile, in Abkhazia, public fears about the spread of the disease have manifested themselves in ironic ways. On March 27, for example, about 100 people took part in an anti-coronavirus procession in Sukhumi, despite the fact that the region's "parliament" had declared a "light" state of emergency that day.
The region's current "president" was elected just a few weeks ago, during a repeat vote held after months of political unrest. Popular protests unseated the previous local government in January of this year – it had only been voted into power in September 2019.
After the March 22 presidential elections, the authorities in Abkhazia moved to strengthen quarantine measures, declaring a state of emergency in effect from March 28 to April 20. All de facto borders are closed, and public transport has been halted.
In addition to closing educational institutions, businesses have been shuttered, with the exception of grocery stores and pharmacies. According to JAM News, some restaurants are staying afloat by offering takeout.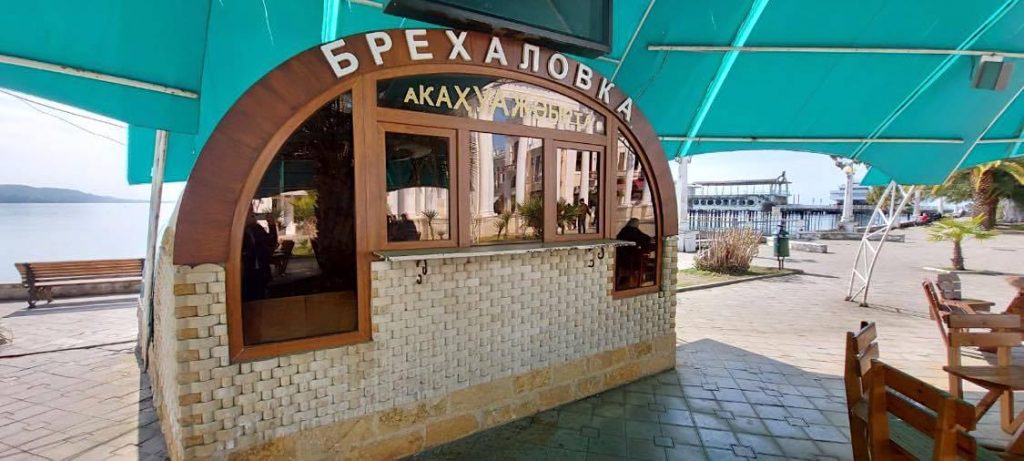 The famous Brekhalovka cafe stands shuttered on the empty promenade in Sukhumi. Photo: JAM News
That said, the de facto Abkhazian authorities are reportedly struggling with people violating quarantine, and therefore considering implementing an official curfew.
During the day time, however, retirees and parents with children are still taking walks in the local parks. Marina Kobakhia from Sukhumi, for example, says she still takes her three-year-old grandson to the playground for two hours every day.
"We don't go to indoor play places where children are jumping on the same trampoline," she says, as her grandson slides down the metal slide with another little boy.
Nagorno-Karabakh
"Let us accept that there is indeed a threat of coronavirus, declare the state of emergency and postpone the elections." – Arthur Osipyan, an opposition politician in Nagorno-Karabakh.
Nagorno-Karabakh is another unrecognized territory in the South Caucasus, which is internationally recognized as part of Azerbaijan. The region is home to approximately 140,000 ethnic Armenians and has been a disputed territory between Azerbaijan and Armenia since 1988.
On April 7, Nagorno-Karabakh confirmed its first case of the coronavirus, in an individual who had recently returned from Armenia.
Just one week earlier, the self-proclaimed government there held both presidential and parliamentary elections, despite the threat of the coronavirus pandemic. In the lead up to the elections, five of the presidential candidates spoke out in favor of declaring a state of emergency and delaying the vote. On March 23, activists began around-the-clock picket demanding the elections be postponed.
"Once the government has decided to close educational and cultural institutions, invited citizens to self-isolation, limited people's entry to and exit from the country [sic], let us accept that there is indeed a threat of coronavirus, declare the state of emergency and postpone the elections," opposition politician Arthur Osipyan told our partner outlet, Caucasian Knot.
Nagorno-Karabakh had already introduced some quarantine measures and closed its de facto border with Armenia (the number of cases there had spiked to 1,013 as of April 13). But the temporary entry ban did not apply to registered residents of Nagorno-Karabakh, freight carriers, or journalists and observers going there to monitor the elections.
Nevertheless, the de facto authorities decided to push ahead with the vote because there were no COVID-19 cases in the region at the time. As of April 12, there are six registered cases in the territory.
"We will take the temperature of observers in Yerevan, of course, and will also do this before sending them to polling stations. We are minimizing the contact of all observers in Karabakh, and we already have all the masks and disinfectant we need to do so," said the head of the NGO Association of Informed Citizens, Daniel Ioannisyan, about his organization's decision to send election monitors to the region.
According to JAM News, 76,728 people came out to vote in the elections on March 31, an alleged turnout of 73.5%. On top of that, the Nagorno-Karabakh authorities reported that 140 election monitors and representatives of 40 media agencies from different countries intended to attend the event.
The vote itself saw widespread electoral violations and the opposition even refused to recognize the results, due to concerns that the authorities had used the state of emergency as an opportunity to try and fix the vote.
Both the EU and Georgia released statements affirming that they did not recognize the election results. But since no single candidate passed the 50% threshold needed to take the presidency during the first round of voting, the second round of presidential elections is set for April 14.
Transnistria
"Quarantine is a feeling of powerlessness when you simply have to deal and adapt to a new life. But I think it's not as difficult for me as for others, seeing as I can working remotely." – Anna, resident of Transnistria.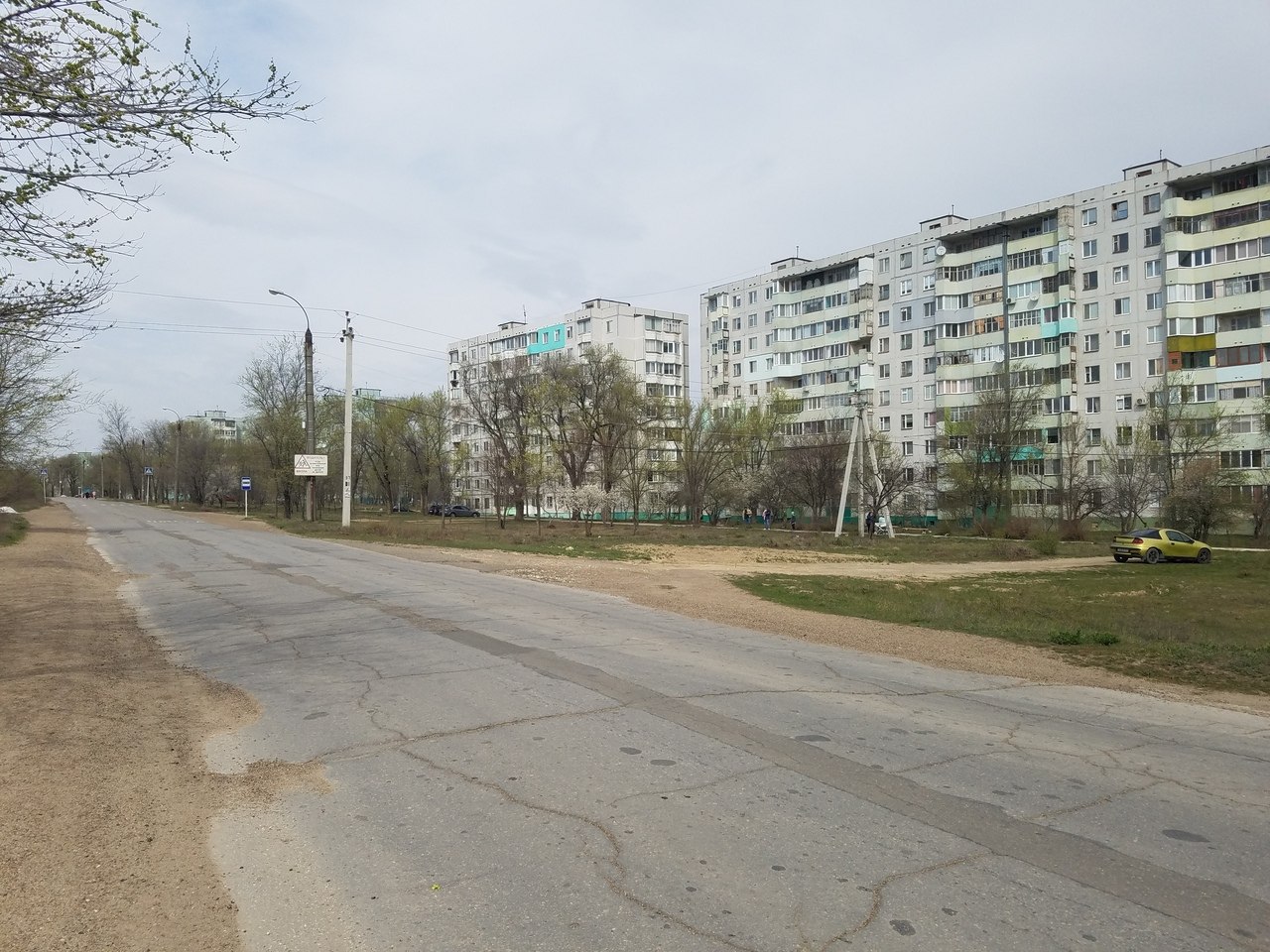 Bender's microdistrict Severny became a special quarantine zone after two cases of coronavirus were detected in the Moldavian village of Varnitsa, bordering on Severny. Photo: NewsMaker
Transnistria (population: 469,000) is an unrecognized breakaway territory located between Ukraine and the Dniester River in eastern Moldova. The region is internationally recognized as part of Moldova, but has been under the de facto control of Russian-backed separatist authorities for nearly 30 years.
As of April 13, the number of coronavirus cases in Transnistria had reached 131, according to the health authorities of the unrecognized state. Seven people have also died due to complications from COVID-19 so far.
Transnistria recorded its first two cases of the coronavirus on March 21, after the de facto authorities in Tiraspol had introduced quarantine measures. Schools are closed and all mass events are canceled. Transnistria also declared a state of emergency. All businesses except grocery stores, pharmacies, and gas stations are closed and residents are barred from leaving the region. Public transport is completely shut down.
"When they closed the district for quarantine, a lot of police appeared here, so I decided to go for a walk [in the field] outside of the house," says Anna Meshina, an illustrator from the city of Bender. "Seeing this, two police officers came up to me and said that it's better to walk near the house and that going into the field is forbidden."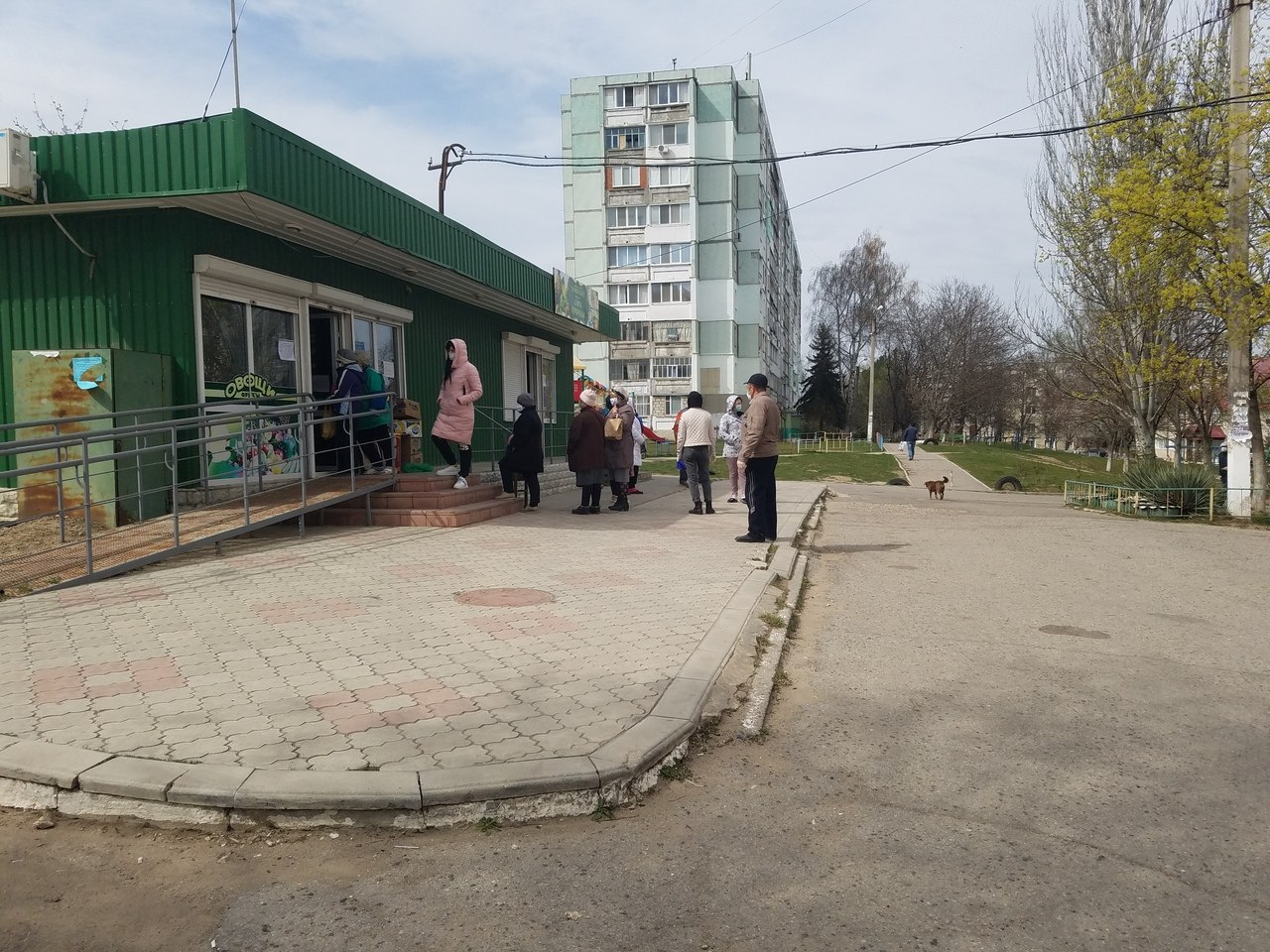 Bender's microdistrict Severny: two people enter the store at a time. Sellers wear masks, many buyers are also masked. Photo: NewsMaker
The state of emergency was initially set to last until April 5, but was later extended until May 1. As a result, many people who had traveled to the region for a temporary visit have since been unable to leave.
"When I went to Tiraspol I couldn't even imagine that they would close the borders," says 22-year-old student Nastya Yemelyanova. "On top of that, I didn't bring any of my things with me. Now I can't return to Chisinau, I didn't even try, because I'm registered on the right bank."
On April 10, the Moldovan government announced that it was calling for an emergency meeting in the 5+2 format (used for negotiations on the Transnistrian settlement), on the grounds that Tiraspol is ignoring the threat of the coronavirus and refusing to cooperate in the fight against COVID-19.
According to Moldova's Vice Prime Minister for Reintegration, Kristina Lesnik, Tiraspol's decision to close the de facto border has cut off access to proper medical care for 320,000 Moldovan citizens living in Transnistria, who have medical coverage in Moldova proper.
According to the regional health authorities, an estimated 35% of Tranistria's population is at risk of catching COVID-19. Allegedly, the region only has 84 ventilators, 24 of which need repairs. According to our Moldovan partner outlet NewsMaker, doctors and medical staff working with coronavirus patients are reportedly set to receive bonuses. As of April 7, four medical workers had reportedly contracted the disease already. Meanwhile, the de facto authorities are going forward with the spring army draft.
Since Ukraine has closed its borders completely, now Transnistria only has access to medicines and other goods through its de facto border with Moldova. But the region had closed its borders to anyone without "citizenship" (with the exception of freight transport) beginning on March 16. And even travel between different cities has largely been cut off.
"Because of the coronavirus, I stopped going to [see] my own parents. I live in Tiraspol and they are in Bender, getting there now is problematic because of the restrictions on transport," explains 22-year-old Aleksandra Dolgopolova. "I still go to work by bicycle. I'm afraid I'll lose my mind if they introduce complete isolation."
Donetsk & Luhansk "People's Republics"
"We still haven't managed to get new bank cards because of this coronavirus – it will be difficult to survive now!" – Mikhail Alexandrovich, a pensioner from Donetsk.
Located in eastern Ukraine, the self-proclaimed "Donetsk and Luhansk People's Republics" have been effectively under the control of Russia and Russian-backed separatists and embroiled in a war with the Ukrainian Armed Forces since 2014.
As of April 13, the "Donetsk People's Republic" ("DPR") had reported 18 confirmed cases of the coronavirus. The "Luhansk People's Republic" ("LPR") had reported a total of eight confirmed cases two days before.
Beginning on March 27, the "DPR" introduced quarantine restrictions, including limiting hours of operation for restaurants and cafes, and closing malls.
Checkpoints along the border with Russia have also been closed and anyone entering the region must spend two weeks in quarantine. According to our partner outlet Novosti Donbassa, the population in the region seems to support the new regulations.
The "DPR" reported its first case on March 31, just one day after the "Luhansk People's Republic" ("LPR") announced the first confirmed case of COVID-19 in Ukraine's uncontrolled territories.
These first diagnoses emerged just ten days after the unrecognized authorities in the region announced "self-isolation" measures. Checkpoints along the uncontrolled side of the contact line were closed on March 21, although some people were still able to pass through on foot. The OSCE SMM later reported that their observers had been denied entry to the region.
In comparison to both Ukraine and Russia, the self-declared authorities in the "people's republics" were slow to react to the global pandemic. Both the "DPR" and "LPR" declared "high alert" regimes in mid-March.
READ MORE: Running in the Park and Trips out of Town: What Ukrainians Can and Cannot Do During Quarantine
At the same time, DPR's de facto Health Minister was maintaining that the region was coronavirus-free, despite the fact that dozens of people were reportedly being kept under quarantine.
The decision to close checkpoints on the uncontrolled side came five days after the Ukrainian government shuttered its crossing points along the contact line. Ukraine also closed its borders to foreign citizens beginning on March 16 and Russia followed suit the next day.
Pensioners in line at the entry-exit checkpoint. Photo by Sergey Vaganov for Spektr. Press
"We were standing in line because we were caught up in the wave of people coming off the train and saw a sobbing woman who the soldiers wouldn't let leave Donetsk," a pensioner who managed to catch the last train from Kyiv told our partner outlet Spektr on March 18.
However, reports from our Russian partner outlet Novaya Gazeta revealed that in late March, residents of the "people's republics" in possession of Russian passports were still being allowed entry into Russia. What's more, Novaya Gazeta's correspondent reports that traffic across the Russian-controlled border was still flowing.
"Road links with the unrecognized republics in south-eastern Ukraine are working as per usual. Bus routes from Rostov-on-Don to the territories uncontrolled by Kyiv are working. Tickets to Donetsk, Luhansk and other Ukrainian cities can be bought without restrictions," said correspondent Elena Romanova.
READ MORE: Russia's Frontline Struggle with the Coronavirus Outbreak
Furthermore, there is also reason to believe that the region could be dealing with more than one deadly epidemic. On March 18, Ukrainian Human Rights Commissioner Lyudmyla Denisova wrote on Telegram that over the past week, around 600 people in the uncontrolled territories had sought medical attention for symptoms of acute respiratory infections, while an additional 91 people had symptoms of pneumonia.
A recent report from Spektr has also revealed that since the beginning of 2020, the uncontrolled territories have been dealing with a deadly outbreak of swine flu (H1N1). This disease has reportedly killed 43 people in the "DPR" so far this year.
What's more, there were no COVID-19 test kits available in the uncontrolled territories until just recently. According to Novosti Donbassa, two shipments arrived from Russia sometime in March. The International Committee of the Red Cross also sent humanitarian aid to the region, including coronavirus test kits, on April 3.
"Our pensions are not enough. These boxes will help us to survive for a while," says 82-years-old Tamara from #Donetsk. Last week, we started urgent distributions in #Donbas to provide food and hygiene kits for people to last over the quarantine under the #COVID19 pandemic. pic.twitter.com/H93EmVzN3O

— ICRC Ukraine (@ICRC_ua) March 29, 2020
That said, the healthcare systems in the unrecognized "republics" are in no way prepared to cope with the coronavirus pandemic.
"In areas outside Government control (NGCA), the healthcare system has experienced severe deterioration due to the complete breakdown of medical supply chains with GCA, causing shortages of medicines, medical supplies, and medical equipment and insufficient numbers of healthcare workers," warns the UN Office for the Coordination of Humanitarian Affairs (OCHA), in its Humanitarian Response Plan for the COVID-19 pandemic in Ukraine.
"There is particular concern that eastern Ukraine – ravaged by six years of armed conflict, weakened health systems, and an aging population – may face a COVID-19 outbreak of considerable scale," the OCHA says.
READ MORE: How Russia, Armenia, Moldova, and Azerbaijan States Leverage Coronavirus to Their Political Advantage
/ Translated and adapted by Eilish Hart, with materials from partner outlets JAM News, Caucasian Knot, Spektr, Newsmaker, Novosti Donbassa and Novaya Gazeta. Courtesy of the Russian Language News Exchange.