"They aren't doing coronavirus tests. The inmates are in an informational vacuum. Yesterday, one of the [prison staff] was quarantined with a suspected coronavirus infection. The details were hidden from the inmates." – Wife of a prisoner at a penal colony in Bryansk
Russia's Federal Penitentiary Service has yet to report a single case of COVID-19 in the prison system – but the country's inmates are telling their relatives a very different story. Inmates at Moscow's notorious Matrosskaya Tishina prison have reported an epidemic of pneumonia and acute respiratory infections, and apparently there is no testing being done to check for COVID-19.
Meanwhile, due to quarantine measures, lawyers, relatives, and representatives of prison watchdog organizations – known as Public Monitoring Commissions (PMC) – are banned from visiting the country's prisons and pre-trial detention centers. So phone calls with relatives are now the only connection Russia's inmates have with the outside world.
After speaking to their family members in the prison system, many people felt compelled to reach out to our partner outlet Novaya Gazeta. What they revealed about conditions on the inside was so concerning that Novaya Gazeta launched a petition, demanding that all prisoners who committed non-violent crimes to be released and placed under house arrest.
Backstory
With over half a million people in the penitentiary system, Russia has the fourth-largest prison population in the world, according to the World Prison Brief, as well as the highest incarceration rate in Europe. According to their data for 2020, this population includes over 97,000 people in pre-trial/remand imprisonment, as well as over 41,000 female prisoners.
Even before the outbreak of the COVID-19 pandemic, Russia's penitentiary system has faced scrutiny for its horrifying conditions. In particular, Novaya Gazeta has continuously worked to expose the widespread use of torture in Russian prisons.
Since COVID-19 was declared a global pandemic in March, both domestic and international rights organizations have been calling on the Russian authorities to safeguard the prison population from the spread of the disease. On 24 March, the Russian human rights group Public Verdict expressed concerns about how poor health and safety conditions in these prisons will not allow for the implementation of effective measures to prevent the spread of COVID-19.
Similarly, on 31 March, Amnesty International issued a statement calling on the Russian authorities to "take urgent measures to address the potentially devastating consequences should COVID-19 begin spreading among prisoners and detainees." Like Novaya Gazeta, Amnesty International also encouraged the Russian authorities to "urgently consider releases" for pretrial detainees, as well as vulnerable prisoners like older people and those in poor health.
In Moscow's prisons "they aren't even doing flu screenings"
"Three weeks ago my relative went to prison at Matrosskaya Tishina and fell ill a week later," recounts a woman by the name of Kristina N. "He's already been sick for two weeks. Now there are four patients in his cell, all with the same symptoms, mainly, a cough."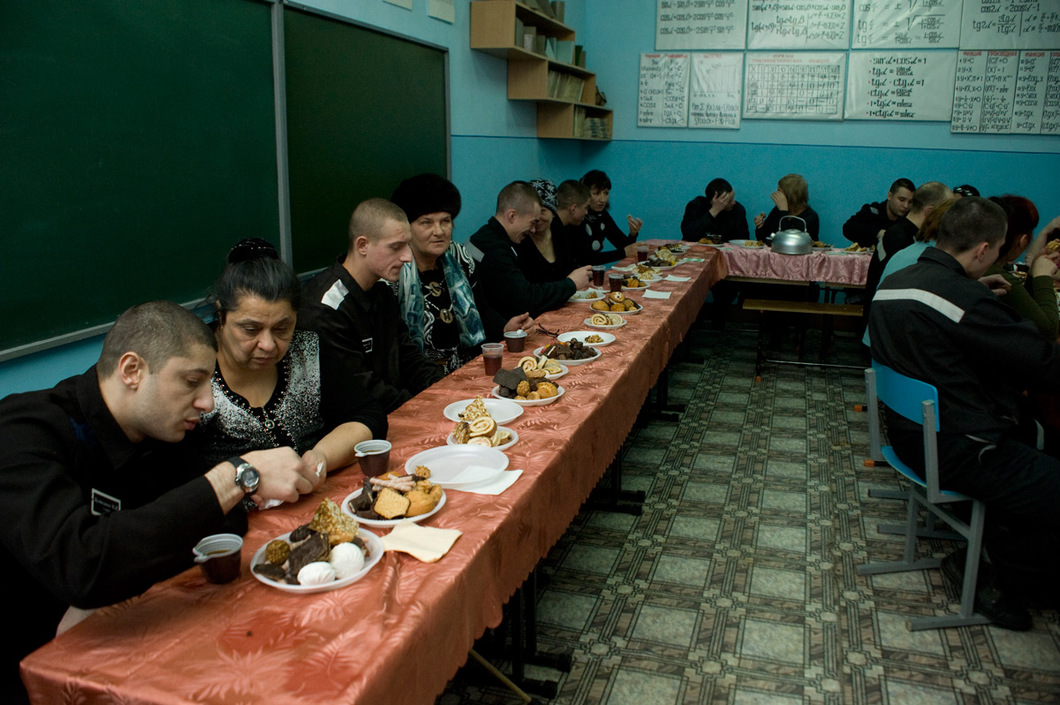 Parent's day in correctional colony №10, Yekaterinburg, Russia, May 2017. Photo from the project by Denis Tarasov and Fedor Telkov / provided for Novaya Gazeta
Kristina is not the only relative of a Russian prisoner who felt the need to reach out to the press. In early April, Novaya Gazeta received dozens of alarming messages in the space of just two days, including reports that someone had fallen ill in nearly every cell at Matrosskaya Tishina.
READ MORE: Russia's Frontline Struggle with the Coronavirus Outbreak
"They are all being kept with healthy people, or rather, [those who] are still healthy," she continues. "My relative had such a cough that he was unable to speak. When his temperature rose to 39 [degrees Celsius], the prison doctor gave him an ibuprofen pill."
According to Kristina, none of the prisoners have been tested for COVID-19 – the prison doctor just prescribed her relative painkillers and the cheapest possible antibiotics. What's more, she claims that although the Penitentiary Service insists that there are 30 doctors working at the prison, there is actually only one physician for the entire facility.
"One doctor physically doesn't have time to examine them daily, she's running between the cells," Kristina worries. "It's very scary for us, he's a young, healthy guy and he didn't get better the second week. Because of quarantine delivering [packages] is forbidden. You can't send fruits or vitamins. We feel powerless."
A number of other Matrosskaya Tishina inmates called the prison rights group Rus' Sidyashchaya ("Rus' Imprisoned") directly, to explain that there are many inmates with fever and symptoms of pneumonia. In addition to confirming that there is only one doctor for the detention center, they claimed that the only medicines available are a diminishing supply of various over-the-counter painkillers and antibiotics.
READ MORE: How Russia, Armenia, Moldova, and Azerbaijan States Leverage Coronavirus to Their Political Advantage
Rus' Sidyashchaya is also fielding dozens of calls from prisoners' relatives, especially after the Federal Penitentiary Service issued an official statement on April 2, claiming that there were no cases of acute respiratory infections at Matrosskaya Tishina.
"According to unconfirmed information, two [people] with temperatures have already been taken to hospital," says Aleksey Fedyarov, the head of the legal department at Rus' Sidyashchaya. "As for the atmosphere in the detention center, there is no tension or aggression among the remand prisoners against the sick. People understand everything."
"So far there is no testing, they aren't even doing chest X-ray screenings there," Feyarov continues. "I think that unless they start treating soon, the entire [prison] will get sick, as it usually goes with any flu."
Meanwhile, at Moscow's Lefortovo Prison, onions – a common Eastern European folk remedy – were handed out to prisoners on purpose. There is no coronavirus testing to speak of and new arrivals are being placed in cells with inmates who are already sick. Even the prison staff are reportedly at a loss.
"If you get sick, there's no help waiting for you anywhere"
The Federal Penitentiary Service has yet to respond to Novaya Gazeta's requests for comments while continuing to maintain that there are no coronavirus cases in the prison system. The Penitentiary Service's website claims that measures are being taken to combat the spread of the disease, but testimonies from inmates' family members across the country reveal circumstances similar to those at Matrosskaya Tishina.
"My son calls me every day. Yesterday, he said that an employee there – an officer – was taken to the hospital and his partners were put in quarantine," says Natalia, the mother of an inmate in prison in the city of Kokhma. "No one is doing coronavirus tests. There's no such possibility."
Meanwhile, other prisons appear to be bracing themselves for the worst. But the inmates are given little information about what's to come.
"A few days ago, a large field-shelter tent was set up on the grounds of the compound. They freed up space in the bathhouse and the library. For what? They aren't telling the inmates," explains another prisoner's mother, from the town of Donskoy. "One of the detachment chiefs told my son and the others, 'Try not to get sick. If you get sick, there's no help waiting for you anywhere.'"
"They aren't doing coronavirus tests. The inmates are in an informational vacuum," says the wife of an inmate at a penal colony in the city of Bryansk. "Yesterday, one of the [prison staff] was quarantined with a suspected coronavirus infection. The details were hidden from the inmates."
"Prisoners will become even more vulnerable"
Russia penitentiary system was rocked by a large-scale prison riot in the Siberian city of Irkutsk late in the night on April 9, which left the prison ablaze, one prisoner dead and hundreds injured. And although this particular disturbance was unrelated to the COVID-19 outbreak, experts warn that the pandemic is already provoking prison unrest on an unprecedented scale globally.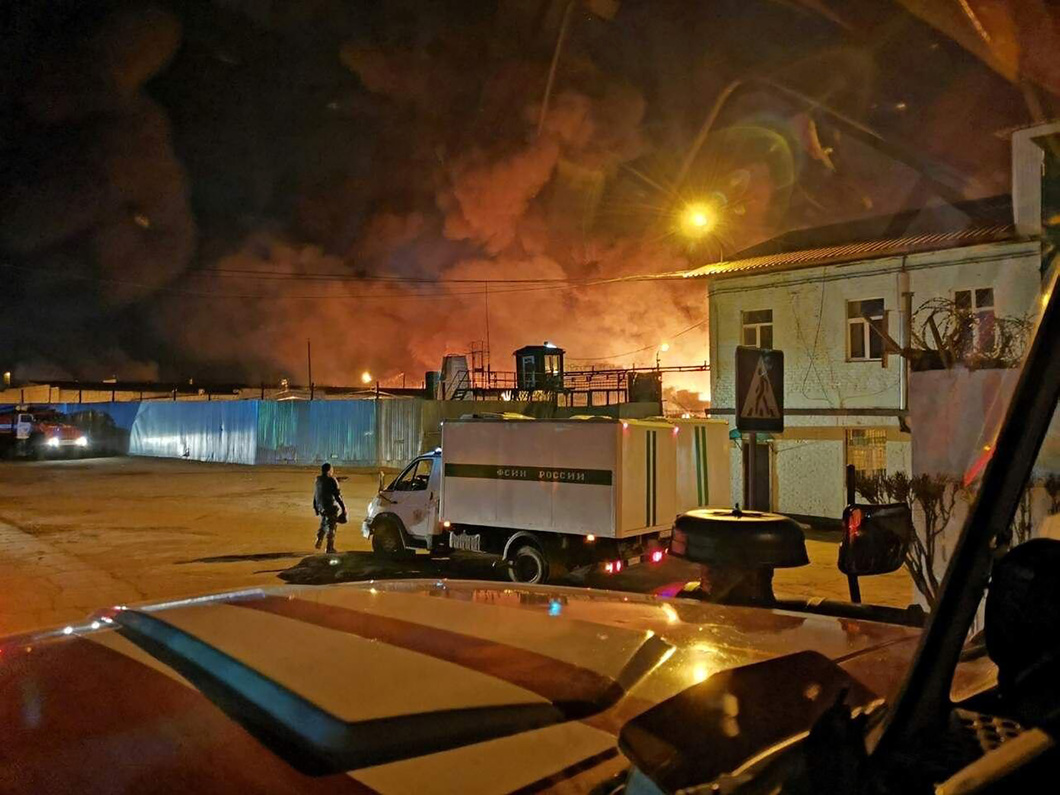 Fire in a penal colony in Angarsk. Photo: human rights organization "Siberia Without Torture"
"Prison riots linked to the coronavirus are shaking detention facilities around the world," says sociologist Olga Zeveleva. "During protests and escapes connected to the threat of the pandemic, at least 62 prisoners in 11 countries have died."
According to Zeveleva's ongoing research, at least 66 countries – including Russia – have taken steps to limit prison visits. Meanwhile, 23 countries have released prisoners or are planning to do so in the near future. That said, many states remain conflicted about the best way to prevent the spread of the coronavirus among inmates. And as governments move to further isolate prisoners from the outside world, they will be creating new risks.
"The worst and most misguided assumption is that people in prison are safer than people in large cities," Zeveleva explains. "Prisoners have always been the most vulnerable group during healthcare crises."
The way she sees it, Russia's inmates are now entering a new state of "hyper-isolation," which involves an increased threat of clashes with the prison administration.
"Increasing isolation [...] will make prisoners even more dependent on the actions of the administration," Zeveleva warns. "Without the admission of lawyers, members of the PMC, human rights defenders and meetings with relatives, prisoners will become even more vulnerable to corruption, negligence and violence."
READ MORE: COVID-19 Spreads in Unrecognized Territories of Eastern Europe Undetected, Untreated
/ Translated and adapted by Eilish Hart, with materials from Natalya Chernova and Vera Chelishcheva of Novaya Gazeta. Courtesy of the Russian Language News Exchange.